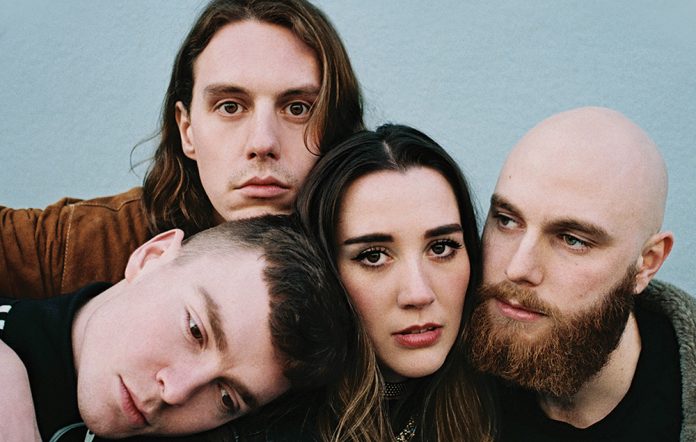 [ad_1]

Yonaka's live shows are a biblical experience. Juggernaut riffs are thrown about with ease, and limbs flail everywhere as lead singer Theresa Jarvis whips up a storm like few can compete with. But if you saw them the evening just after the Brighton group signed to a major label in mid-2016, well, it wasn't quite like that at all. "They got us here at 10.30am in the morning drinking champagne and, surprise surprise, we played dreadful that same night," says drummer Rob Mason. "I was lifting my top up and just screaming in the wrong key. It was awful," admits Theresa. Not quite the vintage Yonaka experience fans up and down the country have become accustomed to.
Now the celebrations are over, and the group are back to the grit and grind that got them in that position. To kick things up a gear they've just dropped their debut EP 'Heavy' which, as the name suggests, is a thumping rock odyssey that blends the head-banging pop sensibilities of No Doubt and Queens Of The Stone Age's swaggering riffs. 'Bubblegum', the riot-inducing opener is the pick of the bunch, but the thundering 'Run' isn't far behind. "The EP is like a buffet," guitarist George Edwards says. "There's just a little something for everyone."
Much of their success lies in their insistence not to conform to any rigid boundaries, and that's what drew them together in late 2014, having gigged in various different bands around Brighton. Three singles – 2016's 'Ignorance' and 'Drongo', then this year's 'Wouldn't Wanna Be Ya' – swiftly followed, each sounding wildly different, yet utterly thrilling. But that's just the way they like it. "As soon as you try and label yourself, you bat yourself into a corner a little bit, and you're gonna wind someone up when you try something different," Rob asserts.
That attitude is obvious, and the band are all…
[ad_2]

Read-Full-Article