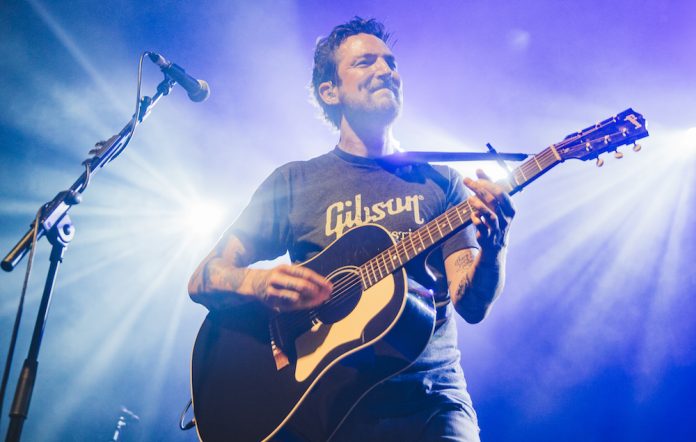 [ad_1]

Frank Turner has announced details of a new album, which will see him rework some old songs.
Turner's best-of album 'Songbook' will include a career-spanning selection of Turner's biggest tracks, as well as a bonus disc of fresh versions of older material. It will also come with a brand new song called 'There She Is'.
'Songbook' will be released digitally and on CD on November 24, with a vinyl and deluxe boxset edition following on December 15. The box set will include a live concert DVD and photobook.
Speaking about the release on Facebook, Turner says: "I'm very excited to share with you all the news of my forthcoming album 'Songbook'. I wanted to release a document of what I've done so far, including my favourite recorded songs, 10 new alternative versions of older songs, and one new track. It's a moment of reflection and celebration of my work as a songwriter to date."
'There She Is' was premiered on Steve Lamacq's BBC 6 Music show and will arrive on streaming services at midnight.
Turner has also revealed that his next new album proper will be released in 2018.
The artwork and full tracklist for 'Songbook' are below:
CD1:
Four Simple Words
I Still Believe
The Next Storm
Recovery
The Road
Long Live The Queen
Glorious You
Plain Sailing Weather
I Knew Prufrock Before He Got Famous
Wessex Boy
The Opening Act Of Spring
Polaroid Picture
Mittens
If Ever I Stray
The Way I Tend To Be
The Ballad Of Me And My Friends
Photosynthesis
Get Better
There She Is
CD 2:
Polaroid Picture (Songbook Version)
The Ballad Of Me And My Friends (Songbook Version)
Broken Piano (Songbook Version)
Josephine (Songbook Version)
Love 40 Down (Songbook Version)
The Way I Tend To Be (Songbook Version)
Glorious You (Songbook Version)
I Am Disappeared (Songbook Version)
Long Live The Queen (Songbook Version)
Photosynthesis (Songbook version)
Meanwhile, Turner recently responded to…
[ad_2]

Read-Full-Article