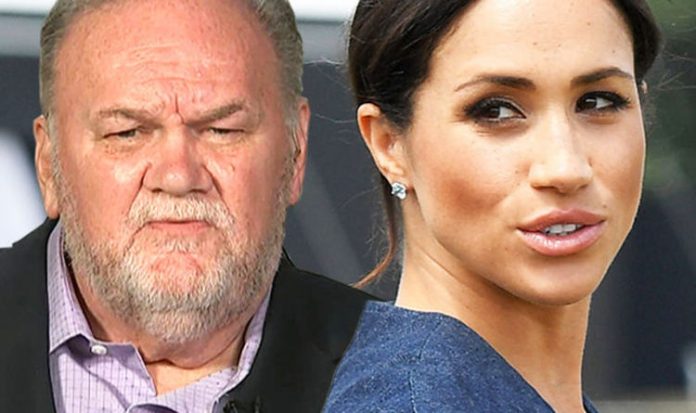 [ad_1]

Royal fans have pointed out Mr Markle was notably absent from Meghan's first wedding, when she married film producer Trevor Engleson in Jamaica. 
The now Duchess of Sussex's father was nowhere to be seen at her weddings in 2011 or 2018, highlighting the pair's difficult relationship.
However like May's Royal Wedding, Meghan's mother Doria Ragland was present during the 2011 ceremony, when Meghan and Mr Engleson tied the know in front of 100 guests at the Jamaica Inn in Ocho Rios.
In the lead-up to her wedding in 2011, Meghan was seen wearing a yellow polka dot bikini surrounded by bottles of local lager, Red Stripe, as she celebrated with friends and family on the beach in Jamaica.
Meghan and her mother, Ms Ragland were also photographed paddling in the sea.
Other pictures show Meghan and her then-husband, Mr Engleson lifted in the air on seats for a traditional wedding 'chair dance' as guests cheered.
However, Mr Markle was nowhere to be seen among the guests.
Thomas Markle missed Megan's wedding to Prince Harry in 19 May at Windsor, after he reportedly suffered a heart attack, pulling out of the ceremony days before he was set to walk his daughter down the aisle.
A source for the Mail Online said this week Meghan's issues with her dad have been going on for years, after Mr Markle gave an interview saying he would be "better off dead so people would feel sorry for her".
The source said: "Behaviour like his doesn't happen overnight. Why do you think her parents got divorced in the first place?
"That's Meghan. She does not have a bad bone in her body, but she's not falling for her dad's crocodile tears. She's been down that road far too many times before."
Mr Markle recently revealed to the press what he wished he could have said during Meghan's wedding.
He said: "Like any father, I wanted to say a few words.
"I was going to recount the funny story about how she broke the news to me about dating Harry: 'Daddy, I've met a man… Daddy, he's English… Daddy, he's a prince'.
"I thought it was a cute story.
"I was going to thank the Royal Family for welcoming my beautiful daughter into their family.
"But it was a speech that I was never going to be allowed to give. That hurt."
[ad_2]