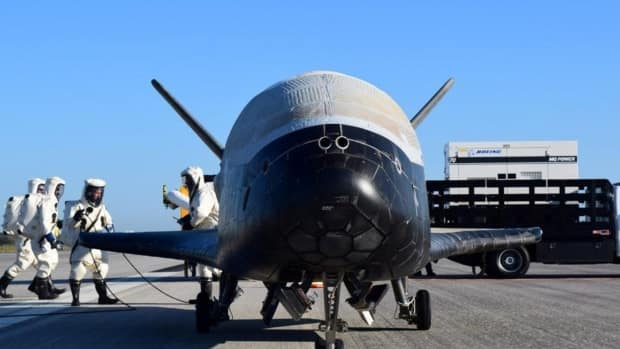 [ad_1]

Canada's military may not be ready to plant a flag in outer space, but a former chief of the defence staff says the federal government would do well to keep an eye on what the U.S. does next with its promised new "space force."
It wouldn't make sense for Canada to attempt to build something as costly as a military presence in space right now, Tom Lawson told CBC Radio's The House on Thursday.
"I think the best things Canada can do is to remain closely linked with U.S space agencies," he said.
"From that we can continue to learn and influence and play a part."
Lawson said U.S. President Donald Trump kicked off a debate on "a really important subject" with his announcement on Monday.
Trump vowed to make his country a leader in space exploration again. He has directed the Pentagon to create a "space force" to serve as an independent branch of the military.
Part of that force's mission would be reviving the United States' flagging space exploration efforts — returning astronauts to the moon and working toward a manned mission to Mars.
Decades ago, the U.S. military declared that space would be a critical war-fighting domain. It created the Colorado-based Air Force Space Command in 1982, which employs more than 36,000 people around the world providing space and cyber capabilities to the Defence Department. And the Space and Missile Systems Center at Los Angeles Air Force Base in California designs and buys most of the Pentagon's space systems, while also overseeing satellite and other aircraft launches.
As he has with so many of the White House's recent actions, Trump described his "space force" notion as an urgent matter of national security, saying he doesn't want "China and Russia and other countries leading us."
Trump and other western leaders have good reasons to be concerned about Russian and Chinese space projects, Lawson said, pointing to the threat posed by spy satellites and attempts to capture other nations' space infrastructure.
Weaponizing space
However, big questions about Trump's policy remain unanswered.
Could this push rival nations into a race to weaponize space? Would countries begin to carry out combat activities above the earth's atmosphere?
"It's kind of remarkable, what's been going on," Lawson said. "These things are kind of Star Wars-level ideas."
This rapid shift toward seeing low-Earth orbit as a commercial and military field is shattering the long-held view of space as a neutral place, where everyone operates peacefully.
But it's an ideal Lawson said many countries still seem prepared to uphold.
"I think the real goal is to make space war less likely."
[ad_2]