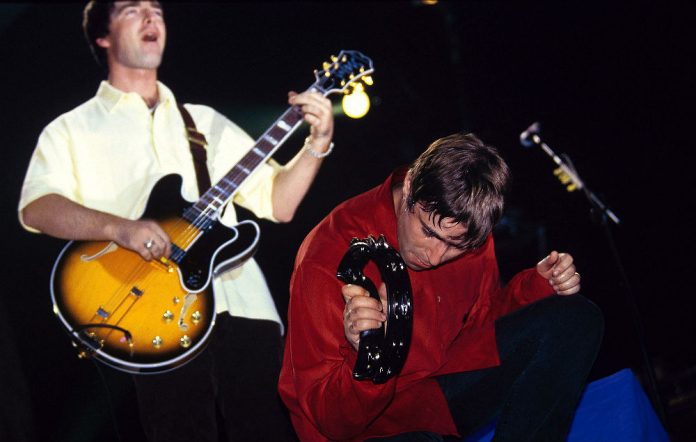 [ad_1]

Liam Gallagher has spoken out to blame Noel for the negative legacy and reputation of Oasis' album 'Be Here Now'.
The band's third album from 1997 has often divided opinion. The album sold 424,000 copies on the first day of release alone, becoming the fastest-selling album in UK history. While many regard it as a masterpiece, others see it as bloated, rushed and the start of the band's fall from grace.
Now Liam has defended the record in a new interview, stating that 'sheep' dislike the record in accordance with Noel's opinion.
"I'm not bringing people up, but there are a lot of sheep out there, aren't there?" Gallagher told Vulture. "And if the main guy [Noel Gallagher] says, "Oh, it's fucking this and that," a lot of people not using their own minds say, "Yeah, I agree." If Noel had said it's the best thing ever, I'm sure it'd have gotten a different fucking reception. The reason why he didn't like it is because it reminds him of a not-so-good time with his ex-wife. That's fine. That's his prerogative."
Liam continued: "But me, I had a good time making that album. I think there are some great songs on it. I think I sung really well, and it was a good time to be alive. Some of the songs went on a bit long, and they were a bit overproduced, but that's what happens, mate, if you think you're a producer. At that time, our kid was always messing with the tracks. It's like, write the songs, play the guitar, and shut the fuck up.
"I like that album, because that's what I did — I sang the songs, I had a good time, and went to the pub."
Meanwhile, Gallagher also recently said that he 'fucking hates Britpop' and found the term 'insulting'.
"I fucking hate that word, mate," said Liam. "We weren't fucking pop. To me, I felt it was us and the Verve. We were different scenes, were like a classic…
[ad_2]

Read-Full-Article