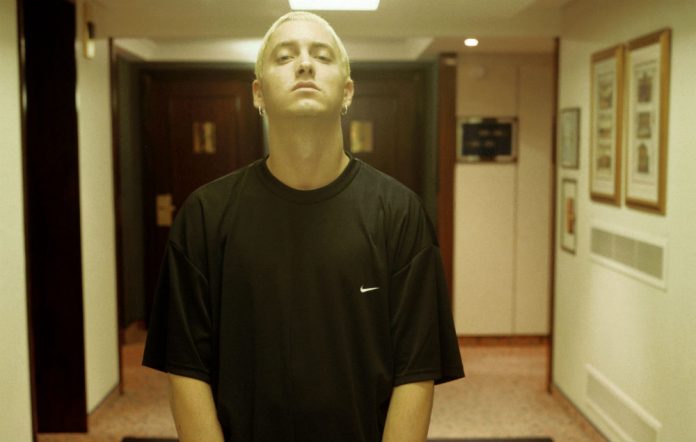 [ad_1]

Look who's back – back again. Eminem, Marshall Mathers, Slim Shady – whatever you want to call him, the Detroit rapper is back behind the mic, ready to remind the world why he's one of the most successful MCs in the game. There's to be another Eminem album, and he's producing a rap battle comedy called Bodied, trading on his star turn in 2002's semi-autobiographical drama Eight Mile. It's also his birthday today! (October 17) Em started out on the rap battle scene, and indeed that's how he found his break (more of which later), so here's a round-up of his most brutal pre-fame exchanges. Take cover!
Exclusive NME offer: Save £10 on Amazon Music Unlimited plans with code NME10
When he revealed the complexity of the battle
Appearing at Maurice Malone's Hip-hop Shop (a clothing store in which rapper Proof hosted battles from the mid-to-late-'90s) in 1996, Em went up against – among others – Kuniva, who later became a member of D12. The clip here is notable for the sense of camaraderie that belies the seemingly confrontational nature of rap battles; the sparring rappers embrace after Eminem delivers his final, indisputable K-O, while many of the best lines are lost under the gasps and whoops from the audience. Therein lies the real joy of a rap battle – it's all theatre beneath the bluster.
Em's killer blow: "You couldn't slip up in the zone if I put banana peels around this fucking microphone"
Meeting his match with Rhymefest in '97
Appearing at the Ohio hip-hop festival Scribble Jam in 1997, Eminem went up against Rhymefest, whom he conceded had "a dope freestyle". In fact, here's an extremely rare instance of Em meeting his match. Listen to the crowd whoop when Rhymefest throws out the line: "He got the funny style / Yo where's the DJ? / Just gimme my money now." At the end, it's Rhymefest who's soaking up…
[ad_2]

Read-Full-Article