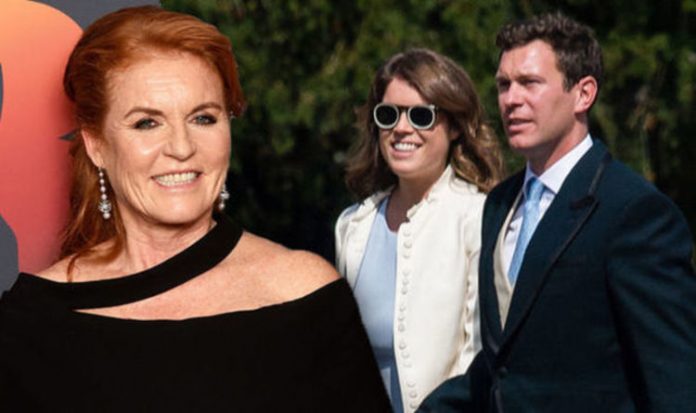 [ad_1]

The Duchess of York married Prince Andrew in a fairytale ceremony, dazzling crowds with her one-of-a-kind wedding dress.
Her gown took an unconventional twist, featuring a scooped neckline and fitted bodice – never before seen on royal brides.
Royal fans were initially shocked when Sarah chose an unknown London designer, Lindka Cierach, to design her dress.
Fashion experts lashed out at the Duchess, criticising her fashion sense and body shape, and insisted the dress would be a flop.
However, the Duchess of York stunned in the beautiful silk ivory dress for her wedding.
The dress featured delicate satin with fine embroidery.
After her wedding ceremony on 23 July 1986, the Los Angeles Times said: "Fashion experts who had criticized the latest royal family member's figure and supposed lack of clothes sense, and openly fretted about her choice of an unknown designer for her wedding gown proclaimed her ivory-colored, silk dress a triumph."
Now, Sarah's daughter, Princess Eugenie, will have her shining moment when she walks down the aisle on 12 October this year.
Eugenie will marry her long-term boyfriend, Jack Brooksbank in a ceremony at St George's Chapel in Windsor.
It is still unclear who Eugenie's wedding dress designer will be, or whether she will take some style inspiration from her mother's one-of-a-kind dress.
Sarah's wedding gown featured a fitted bodice, wrapping around her mid-section like a "corset", which complemented her figure tremendously.
The Duchess of York's dress featured embroidery that represented her family coat of arms – a bumblebee and thistles.
Sarah also wanted teddy bears and helicopters to be embroidered on her dress, according to designer Ms Cierach, who ignored her requests.
Ms Cierach previously told People: "The most important thing to me was that Sarah loved it.
"I wanted her sense of fun to come out in the dress."
The 17-foot train also had the letter 'A' secretly embroidered on it, representing the first letter of Andrew, her former husband's name.
Sarah's wedding dress designer took some pointers from Princess Diana's dress, which saw the taffeta material crease upon her arrival to St Paul's Cathedral.
Ms Cierach went for a smooth satin material, to ensure Sarah's dress flowed nicely.
Fergie said in her book, My Story: "We'd chosen duchess satin because it is the creamiest material in the world.
"It never creases. It is smooth as glass and hangs beautifully."
Sarah's ring, which bears a striking resemblance to her daughter Eugenie's ring, featured a Burma ruby surrounded by 10 drop diamonds.
Eugenie's ring contained a padparadscha sapphire – a special mix of red and yellow sapphire – surrounded by diamonds on a gold band. 
Kate, the Duchess of Cambridge sported a similar design with her wedding dress in 2011.
Sarah Burton for Alexander McQueen employed the same tactic for Kate's gown, shaping the dress' mid-section to flatter the bride's silhouette.
Jack and Eugenie have invited 1,200 members of the public who will get the chance to watch their wedding ceremony this autumn.
The royal couple dated for seven years, before announcing their engagement earlier this year.
[ad_2]