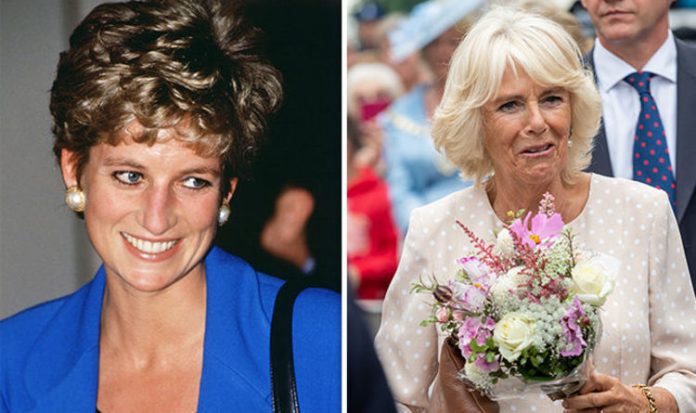 [ad_1]

Loyal supporters of Prince Harry and William's late mother seized on Camilla's 71st birthday to insult the duchess and warned her "you'll never be our Queen" amid speculation Prince Charles will give his wife the title when he takes to the throne.
Messages from the Twitter accounts of the Royal Family who posted happy birthday messages to Camilla on Tuesday were quickly dogged by angry insults hurled at the duchess.
Diana fans have clearly not forgiven Camilla for her affair with Prince Charles while he was married to the princess, who died in a tragic car crash in Paris in 1997.
One posted: "She does not deserve to be in the royal family just like her husband #LadyDiana."
A Twitter user said: "She will never be Princess Diana's equal."
Another said: "Camilla deserves no privilege from the Royal family and certainly not from the people. Diana will remain the Princess of the people who unfortunately left us much too early the best leave first but the vipers continues to hang on."
One simply tweeted: "I'm sorry, but… Princess Diana comes in my mind first."
Another added: "She is the reason behind the destruction that happened to the family, she didn't leave him alone even though she knows he is married and he has children.
"Nothing could stop her from her intentions. We will never forgive her."
Angry fans also posted a flurry of videos and pictures of Diana and her wedding to Prince Charles.
But supporters of Camilla were quick to jump to the duchess' defence and told Diana fans to "get over it".
One said: "For goodness sake, it was over 20 years ago. Charles is happy. William & Harry get on with her, get over it & leave her alone."
The Prince of Wales married Camilla Parker-Bowles in 2005 and he will decide whether to make her Queen Camilla one day despite controversy surrounding her future title.
Until then there is ongoing uncertainty over Camilla's potential title, which will not be officially confirmed until Charles eventually succeeds the Queen.
Although Charles and Camilla have been married for 13 years, the couple have a long and complicated history.
Although the couple met when they were young, they both married other people – Camilla married Andrew Parker-Bowles, a retired military officer, but the pair divorced in 2005.
Charles married Princess Diana, the mother of Prince William and Prince Harry.
After Diana's death, the couple brought their relationship out in the open, with Camilla attending a hunt with Charles and his two sons.
The pair were first photographed together as a couple in January 1999 as they left the Ritz Hotel after celebrating a party for Camilla's sister, Annabel.
Charles, 69, finally married Camilla in 2005, in a low key ceremony at Windsor Guildhall and the duchess was given an engagement ring that once belonged to his grandmother, Queen Elizabeth The Queen Mother.
The Queen and Prince Philip, as well as Camilla's parents, did not attend the wedding, supposedly because the couple had both previously been married.
[ad_2]