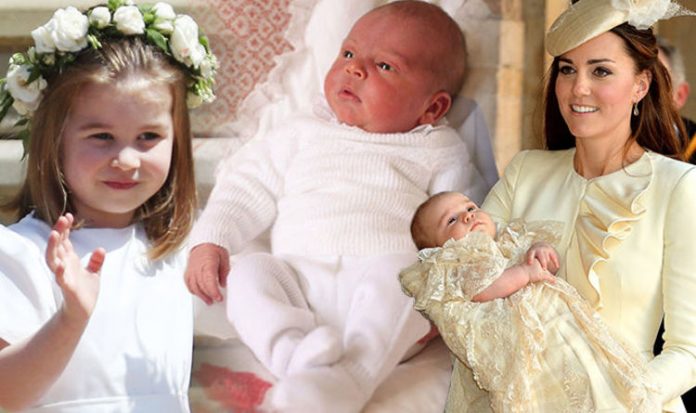 [ad_1]

Prince Louis will be christened at St James Palace next Monday in a private ceremony with his parents the Duke and Duchess of Cambridge as well as close friends and family.
The little prince has not been seen in public since a radiant Kate showed off her bundle of joy alongside Prince William on the steps of the Lindo Wing of St Mary's Hospital in Paddington, on April 23.
But on Monday, the royal baby will christened in the Chapel Royal dressed in a replica of the famous Honiton lace christening gown which was worn by George in 2013 and Charlotte in 2015.
The original gown was made in 1841 for the christening of Queen Victoria and Prince Albert's first child Princess Victoria.
The delicate outfit was created using the same fabrics as Queen Victoria's wedding dress, Spitalfields silk and Honiton lace by Janet Sutherland.
Queen Victoria at the time declared her daughter looked "very dear" in it and the christening dress went on to be used by more than 60 royal babies including the current Queen, Prince Charles and his sons Prince William and Prince Harry.
The last royal to use the original gown was the Queen's granddaughter Lady Louise Windsor.
Before her brother James, Viscount Severn's christening the Queen commissioned Angela Kelly to create a replica after the original was deemed too fragile.
Writing for 'Royal Babies: A celebration through history' by Annie Bullen and Gill Knappett, it reads: "The Honiton lace gown had been worn by royal babies at their christenings for 167 years and was beginning to look a little tired when the Queen decided to commission a hand-made replica from royal dressmaker Angela Kelly.
"The beautiful copy of the original gown was ready in time for the baptism, in April 2008, of baby James, Viscount Severn, the infant son of the Earl and Countess of Wessex."
Other royal traditions Kate and William will have to on day include using water from the River Jordan in the Middle East which will be sprinkled on baby Prince Louis' head as part of the ceremony.
The practice is followed because the river is where Jesus was baptised by John the Baptist.
All royal babies are also christened in the Lily Font bowl, an exquisite silver-gilt font used by the Royal Family since 1840.
And Kate and William are expected to select godparents for Louis, as was the case with Charlotte and George.
The ceremony, which will last around 30 minutes, will be conducted by the Archbishop of Canterbury.
[ad_2]