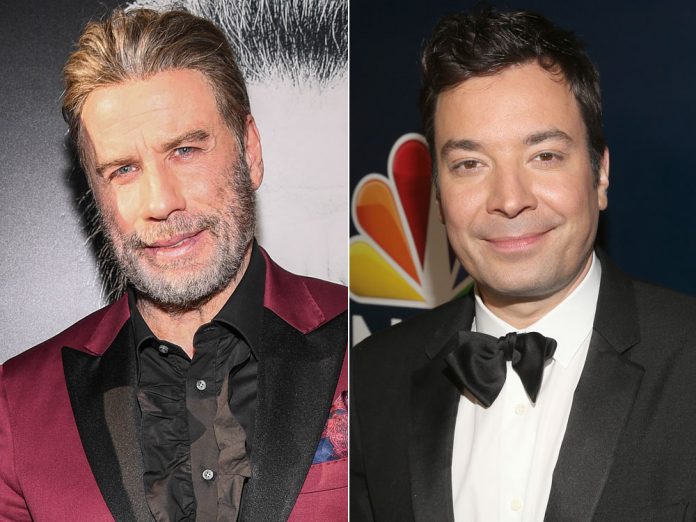 [ad_1]

John Travolta gets Greasy
It's been 40-years since Grease was first released. And to celebrate four decades since the premiere of the iconic 1978 hit musical, John Travolta appeared on The Tonight Show this past Wednesday to teach Jimmy Fallon some classic moves. "Let's do it," Travolta said enthusiastically before walking Fallon through the classic choreography for You're The One That I Want.
Corden throttles Kutcher in rap battle
Ashton Kutcher and James Corden faced off in what hip-hop mogul Sean P. Diddy called "one of the closest battles in The Late Late Show history." The late-night host got aggressive with The Ranch star on Tuesday night by insulting him with rap bars poking fun at his career, his relationship and his choice in film and television scripts and inevitably won the lyrical battle by half a point. "You do great charity work year after year. If you want to stop something from dying, why don't you start with your career?" James yelled into the microphone, as the crowd went wild.
Politics and Rose
Rumours swirled in May that former White House communications director Anthony Scaramucci and Stormy Daniels' attorney Michael Avenatti were shopping a political talk show around. While no official series has been confirmed, the pair made their debut as a duo on The Late Show on Wednesday to trade witty banter and sip rose with Stephen Colbert, who played along with their shtick. "I actually thought we were doing a show, and it was going to be the male version of Thelma and Louise," Scaramucci joked, before the topic soon turned to Trump, the president's part in the Russian collusion investigation and his former lawyer Michael Cohen, who is also bring probed for his part in the Stormy Daniels lawsuit.
Queer Eye's Fab 5 make over Late Late Show
James Corden cares about his The Late Late Show staff. So much so that he invited the energetic cast of Netflix's Queer Eye to the studio to help make over his guitar player Tim Young, who needed a little styling assistance. The Fab 5 became the Sexalicious 6 as Corden took the lead in pulling the 47-year-old out of his funk. After throwing out his entire wardrobe and giving his scraggly beard a trim, a brand-new Tim made his grand reveal and gave Corden chills.
Christina Aguilera goes busking in disguise
Christina Aguilera donned a floppy hat and shades during her appearance on The Tonight Show, where she and Jimmy Fallon put on a surprise performance in the New York subway. The late-night host accompanied the superstar's soulful vocals on banjo as they sang Aretha Franklin's Think and her own hit Fighter. Despite the costume, it was hard to hide such a distinct voice and a crowd immediately surrounded the stars at the 50th street subway station, below Rockefeller Center.
[ad_2]