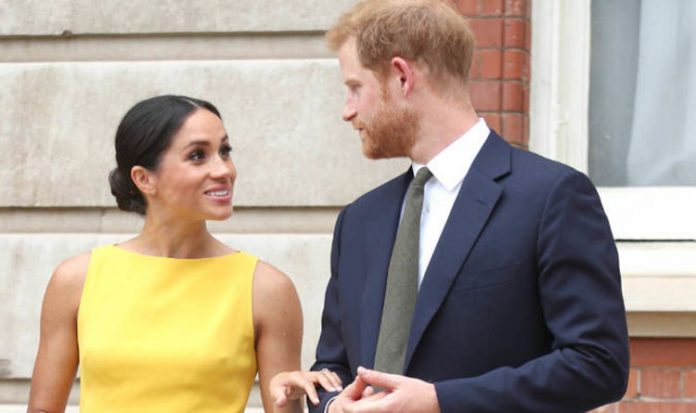 [ad_1]

The Duke and Duchess of Sussex are attending the Your Commonwealth Youth Challenge reception today. 
But despite having ahead of them a very busy schedule, the couple took a brief pause to share a private moment.
As they were entering London's Marlborough House, where the reception takes place, the pair shared a love-filled look while Meghan lightly put a hand on her husband. 
The Duchess, who for the occasion abandoned her pale palette of colours and chose to wear a yellow dress by US designer Brandon Maxwell, also smiled at the prince. 

Prince Harry was named the Commonwealth Youth Ambassador earlier this year by his beloved grandmother the Queen. 
In this role, he will honour "exceptional" young people for their work in their respective Commonwealth nations.
Meghan, who has carried out a number of royal engagements since her wedding on May 19, will also attend the ceremony. 
The Challenge was first created five years ago, and is said to be very close to the Queen's heart. 
Meghan and Harry have already attended another event honouring youngsters in June, the Queen's Young Leaders Awards. 
The annual awards celebrated exceptional leaders between the ages of 18 and 29 coming from across the Commonwealth.
Those winning the award receive training, mentoring and networking, and are entitled to a week-long residential programme in the UK.
Harry, 33, previously revealed the former Suits actress is "hugely excited" to be joining him in his Commonwealth duties.
[ad_2]