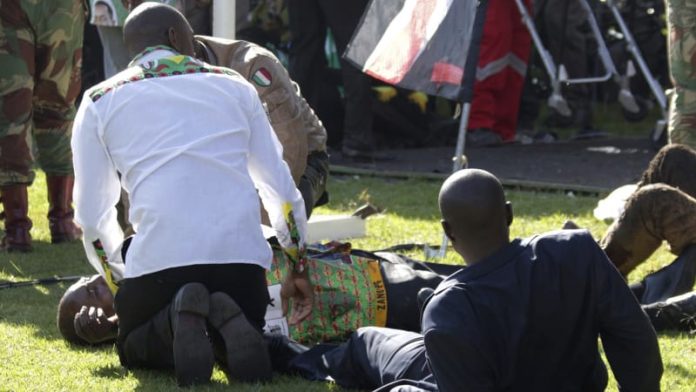 [ad_1]

Nairobi: Mnangagwa had just finished giving a speech in a stadium in Zimbabwe's second-largest city, Bulawayo, when the blast went off near him and other government officials as they shuffled offstage. Widely circulated videos on social media show a cloud of smoke and a small explosion knocking over people standing in the vicinity.
The president's spokesman, George Charamba, released a statement saying Mnangagwa was unhurt and an investigation was underway.
"There have been multiple attempts on the President's life over the past five years," he said.
It was unclear whether anyone was killed in the blast, but footage from ZBC, the state broadcaster, showed medics attending to wounded people. The state-run newspaper, the Herald, quickly termed the attack an "assassination attempt."
Mnangagwa, 75, assumed the presidency in November after Zimbabwe's longtime leader, Robert Mugabe, was deposed by the military in a bloodless coup. Mugabe had been Zimbabwe's only president since it gained independence in 1980, and elections that are expected to be held July 30 will be the first in which he is not a contender. Bulawayo, where the blast took place, is an opposition stronghold.
[ad_2]