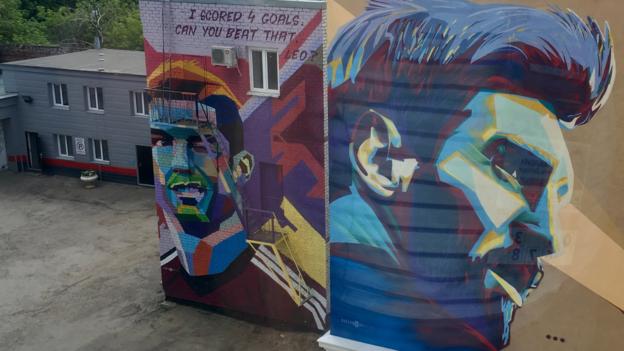 [ad_1]

There is no escape for Lionel Messi – the picture above is taken from the back of the Argentina team hotel in Kazan.
Above a three-storey portrait of Portugal's Cristiano Ronaldo is the slogan: "I scored four goals. Can you beat that, Leo?"
The mural was painted on a building behind the Ramada Hotel to welcome the five-time World Player of the Year when Portugal played in the capital of Tatarstan during the 2017 Confederations Cup.
To avoid the appearance of them taking sides in the debate over which of the players is the world's best, the city commissioned the smaller side profile of Messi, although the words above Ronaldo's head have also now been added.
Real Madrid striker Ronaldo scored a hat-trick in Portugal's opening group game against Spain, and added another goal in their match against Morocco. Barcelona's Messi got off the mark in the 2-0 win over Nigeria that secured Argentina's place in the knockout stages.
Both teams play in the World Cup last 16 on Saturday – Argentina take on France at 15:00 BST in Kazan, before Portugal face Uruguay at 19:00 BST in Sochi.
[ad_2]