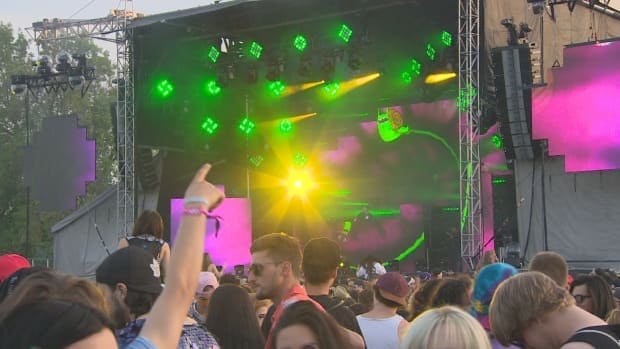 [ad_1]

One of the biggest hits at this summer's electronic music festivals is not a DJ, but a soft-spoken engineer.
Jeremy Bridge invented a speaker technology that delivers high-quality sound to the audience, while limiting its bleed into surrounding areas. 
As summer music festivals grow in popularity, the number taking place in urban areas is on the rise. So, too, is the ire of residents who don't appreciate the noise that disturbs their peace and quiet. 
"Population density is going to continue to increase, so if we want to have these great events, I think we just have to work harder to make everybody happy," Bridge said in Kitchener, Ont., this month, ahead of the city's Ever After Music Festival.
Last summer's edition provoked more than 100 complaints to local authorities about excessive noise. So this year, festival organizers called upon Calgary-based Bridge and his company, PK Sound, to make sure the music is only directed toward the people who want to hear it.
The number of noise complaints this yea? Just six.
Watch Jeremy Bridge explain the system.
PK Sound's system, called Trinity, looks like a big bar of speakers. But louvres close to the centre of the bar can rotate left and right, opening and closing like the wings of a butterfly and widening or narrowing the field of sound being projected.
"We put robotics in loudspeakers," explained Bridge. "We have a software application that controls the robotics in the loudspeaker and allows you to control the direction of sound."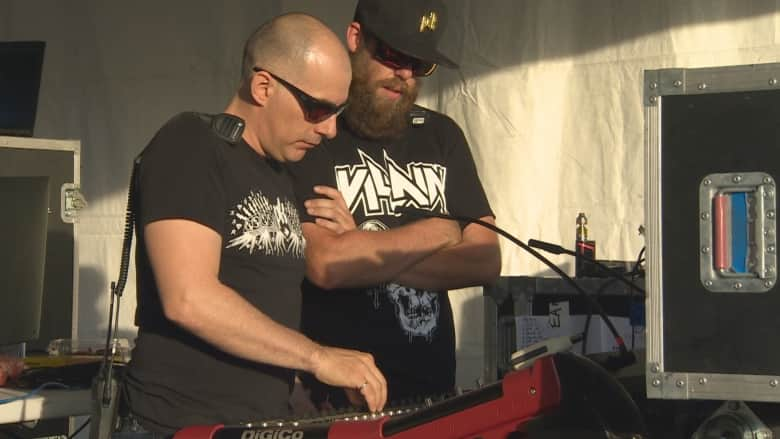 Jeremy Bridge, left, works at the 2018 Ever After Music Festival, which employed his Trinity speaker system. (CBC)
If it sounds almost too simple to be true, Bridge says that it is. He thought of the concept while running a speaker-rental company with his wife.
"Loudspeaker technology was archaic, from the 1990s, and we were always having problems with setup time and noise bleed into areas — generally not being able to control the sound, because it's not just applicable outdoors."
He pitched his idea of directionally controlled speakers to the National Research Council of Canada and got some funding.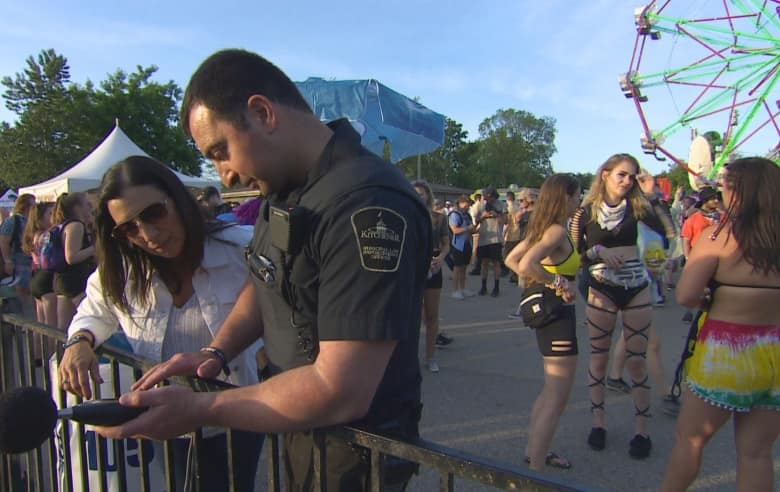 Gloria MacNeil, Kitchener's director of bylaw enforcement, verifies sound levels at this year's festival with a bylaw enforcement officer. (CBC)
As news of his invention spread by word of mouth, his list of high-profile clients grew.
PK Sound speakers are now used by the Broadway smash hit Hamilton and provide clean, clear sound at the Electric Daisy music festivals in Los Vegas and Mexico City, each attended by more than 100,000 people.
The system is also featured in Ottawa this weekend. It's the second year in a row Bridge and his team have taken care of audio for Escapade electronic music festival, which is held close to the centre of the city.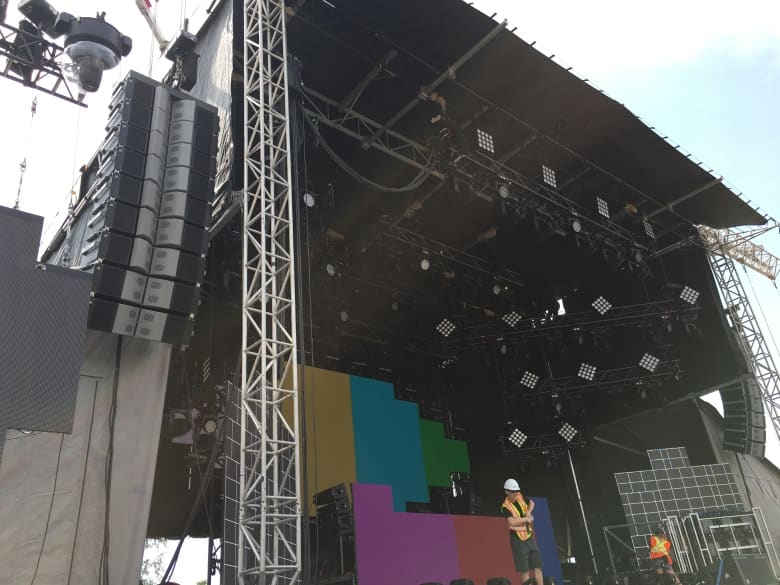 PK Sound's Trinity speakers, at the top left, flank the stage and focus the sound toward the audience. (Deana Sumanac-Johnson/CBC)
Bridge attributes at least a part of his success to his willingness to work with the local authorities and not see them as the "bad guys" who just want to spoil a party.
Ahead of Kitchener's Ever After Festival, he met with the bylaw officers and went to the areas where most noise complaints came from last year. Armed with noise meters, Bridge and the officers agreed on the sound levels that would satisfy the music fans and residents.
Gloria MacNeil, Kitchener's director of bylaw enforcement, was impressed by Bridge's professionalism, before and during the festival. "We could contact the sound team and they were able to make adjustments on the spot, and we could audibly hear the difference."
Bridge takes pride in helping festivals mend fences with their neighbours. 
"I personally want to make a difference because I come from music culture, and I want it to continue to thrive," said Bridge, a former DJ.
"This is my way of helping to keep it thriving."
[ad_2]