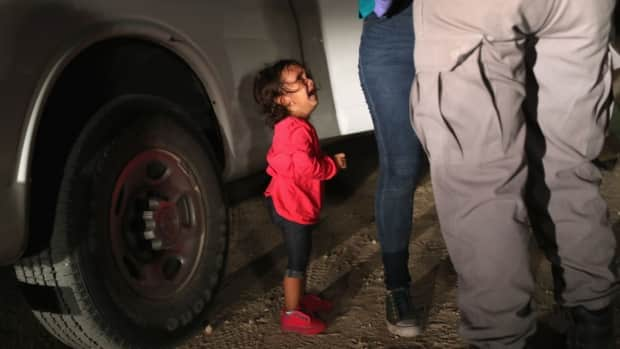 [ad_1]

The picture of a crying young Honduran girl in a pink jacket and jeans became a powerful image to illustrate the controversial U.S. policy of separating children from parents arrested for crossing illegally from Mexico.
But the picture has sparked its own controversy, as it has since been learned the image did not tell that specific story. 
"The picture just does not say what we all thought it said. And I think that's a problem," said Dan Kennedy, an associate professor of journalism at Northeastern University. 
Getty Images photographer John Moore took the photo of U.S. border officials detaining and searching the girl's mother at the border in McAllen, Texas, on June 12.
The image soon went viral, retweeted repeatedly on social media and used by a number of news organizations to symbolize the issue of children being separated from parents caught illegally crossing into the United States.
For its cover, Time magazine took the image of the girl looking up crying, combined it with an image of U.S. President Donald Trump, and ran the headline: "Welcome to America." 
'Ripped from parents'
The New York Daily News used the whole picture on its cover with the words: "Callous. Soulless. Craven. Trump. Prez's edict led to 2,000 children ripped from parents at border in just 6 weeks."
The picture seemed destined to become iconic, much like the image of three-year-old Syrian refugee Alan Kurdi's body washed up on the shore, or the pictures of children fleeing an aerial napalm attack during the Vietnam War.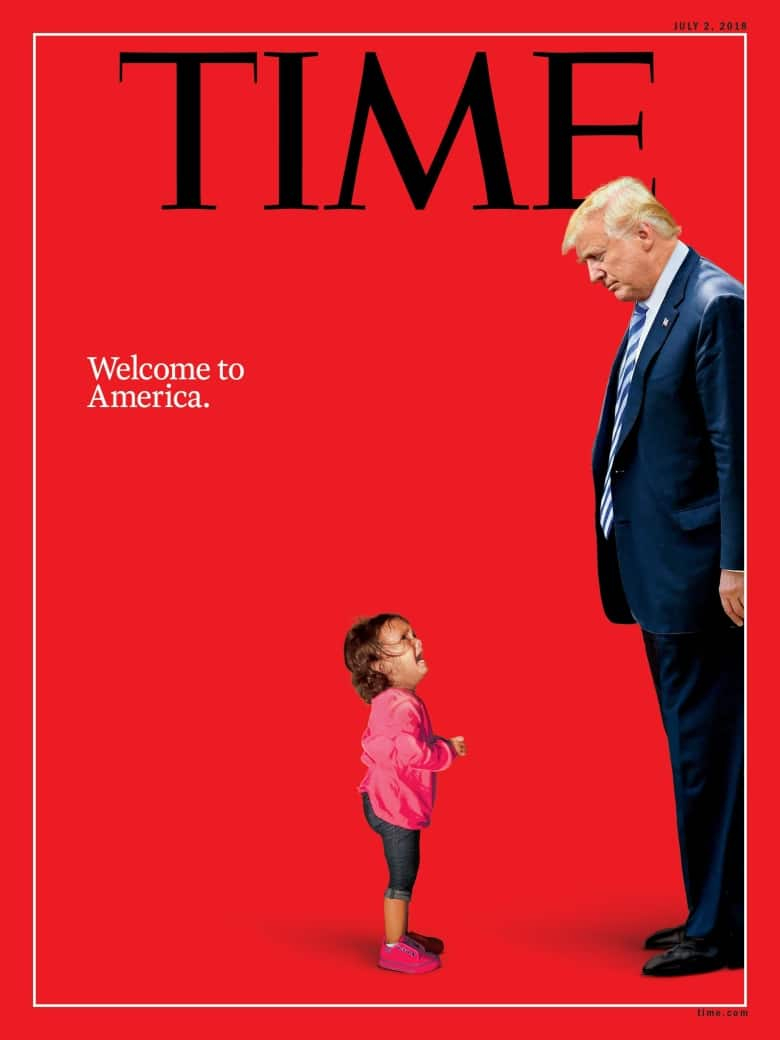 Time magazine is not apologizing for its cover, saying it captures the larger story. (Time)
But as new details emerged, the narrative didn't match what many thought the picture depicted. The  girl was not one of the children who had been "ripped" from her parents. Instead, mother and daughter had been taken away together.
The girl was crying, Border Patrol agent Carlos Ruiz told CBS News, not as a result of being separated from her family but because, according to the mother, she was "tired and thirsty" and it was late.
I'm for comprehensive immigration reform. I don't use the words "fake news", believing reporters don't err on purpose. They make mistakes. <br><br>But Time's cover crossed the line. They separated themselves from the truth. MSM's dedication to a narrative is killing their credibility.

&mdash;@AriFleischer
These new details were immediately seized on by a number of conservative commentators. National Review editor Rich Lowry tweeted that the "iconic image of the separations policy didn't involve a separation — all too typical of how a hysterical, advocacy-driven media covers immigration." 
Ari Fleischer, former press secretary of George W. Bush, tweeted that "Time's cover crossed the line. They separated themselves from the truth. MSM's dedication to a narrative is killing their credibility."
Time, however, stood by its decision to use that image for its cover. Edward Felsenthal, Time editor in chief, said the image "became the most visible symbol of the ongoing immigration debate in America for a reason.
"Under the policy enforced by the administration, prior to its reversal this week, those who crossed the border illegally were criminally prosecuted, which in turn resulted in the separation of children and parents. Our cover and our reporting capture the stakes of this moment."
(Time did issue a correction to its story written earlier this week about the photograph, saying "the girl was not carried away screaming by U.S. border patrol agents.")
'Fake news'
Kennedy said the new details about the image play into the hands of supporters of Trump and the president himself who can say "the story's been exaggerated. It's fake news or whatever."
"To take a picture that did not depict what we all thought it depicted and use that in your photo illustration with the president looming over her like that — it's just not a good look for Time magazine, and it just ends up being used to castigate all of the mainstream media," said Kennedy.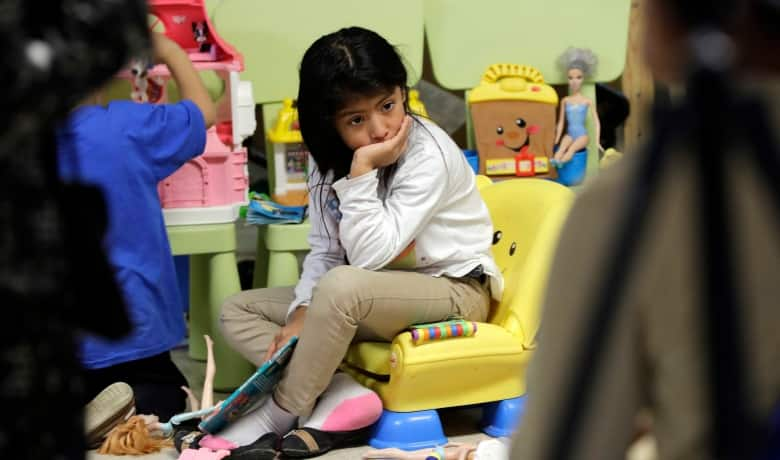 An immigrant child from Guatemala sits on a toy chair as she waits with her family at the Catholic Charities RGV, on June 21 in McAllen, Texas. Families that are processed and released by U.S. Customs and Border Protection get assistance and help with travel at the facility. (David J. Phillip/Associated Press)
However, Mike Ananny, assistant professor of communication and journalism at the University of Southern California, said focusing on the changing narrative of the picture plays into the hands of those who want to deny the existence of families being separated..
"I think the child crying represented something that is very real, and the fact that that particular child's story shifted or changed a little bit from what it was assumed to be — to me it's just not that important."
Ananny said images are not just documentation. 
"They are symbols at the same time. They can mean a lot of different things at once."
Barbie Zelizer, a professor of communication at the University of Pennsylvania, said pictures can't fully represent what a story is about.
"We kind of talk about the images as if they hold all the evidence, and there's no picture that does that."
'Tempest in a teacup'
She said the controversy over the photo of the crying Honduran girl is a "tempest in a teacup," and that "there is no one picture that ever tells us the whole story."
"In this particular case, does it really matter in the end result as to whether or not that child was only put down for a second or picked up a moment later or left on the ground and taken away? That doesn't matter because we know that she is representative of other kids to which that did happen," she said.
"The picture reflects the activities that are going on at this time. Even if the actual representation did not represent what people assumed."
[ad_2]