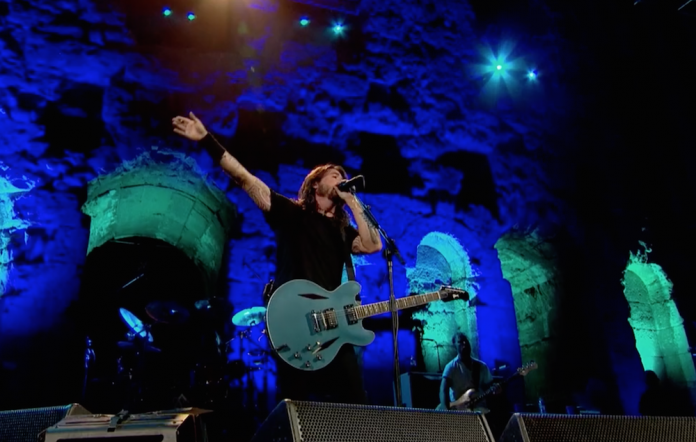 [ad_1]

A new clip has been released from Foo Fighters' recent concert at the Acropolis in Greece.
The band are to feature in an upcoming performance series from PBS called Landmarks Live In Concert with their historic show in Athens. The series follows global superstars as they play historic locations around the world. The documentaries are hosted by Red Hot Chili Peppers' Chad Smith. The Foos' episode will air in the US on November 10.
The Foos played the Acropolis this July. Frontman Dave Grohl spoke about performing at the famed Odeon of Herodes Atticus, saying: "We've done some crazy things over the last 20 years, but I think this might be the craziest thing the Foo Fighters have ever done."
The documentary series' producer and director, Daniel E Catulla III, said of the gig: "Logistically this was the largest undertaking and production I've ever done." He continued: "[It took] almost a year of planning, hundreds of people on the crew, coordination with the Greek Government, major logistics and coordination with the band".
You can watch a teaser of the historic concert film here and watch a clip of the Foos performing 'The Pretender' during the show below.
Meanwhile, Foo Fighters recently cancelled a handful of shows due to a "family emergency".
Dave Grohl and band have scrapped gigs in Lexington, Nashville and Memphis, which were set to take place laste weekend and earlier this week. Now they've confirmed that the Lexington and Memphis dates have been rescheduled for May 2018. The replacement Nashville show will be announced "shortly".
They didn't reveal any further details of the "family emergency", but wrote in a statement: "The band sincerely apologizes for any inconvenience and looks forward to returning". See below.
[ad_2]

Read-Full-Article