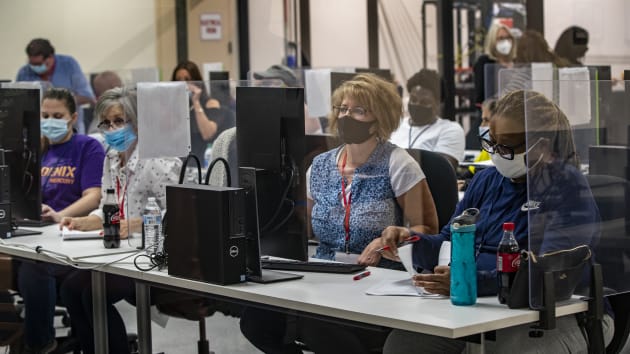 President Donald Trump continued to chip away at Democrat Joe Biden's lead in Arizona on Friday night, when a new batch of votes from the populous Maricopa County netted Trump an additional 8,594 votes.
Before this latest report of around 73,000 votes, Biden's lead was 38,455, according to NBC News. After these votes were added to the count, Biden's lead shrank to 29,861.
Trump won 54.9% of the latest chunk of votes, slightly outperforming Biden with voters in a state that Trump won in 2016.
Across Arizona Friday night, around 170,000 votes remained to be counted, approximately 90,000 of which were in Maricopa County, with the other 80,000 scattered statewide.
Technically, there's a still a remote chance that Trump could come from behind and win the state. But given Biden's current lead, it will be very, very difficult for Trump to catch up.
NBC News' Vaughn Hillyard estimated that if Trump were to win 54.9% of the outstanding votes in Maricopa County, he would also need to win a much higher percentage of the non-Maricopa votes – around 63% of them – in order to overtake the former vice president.