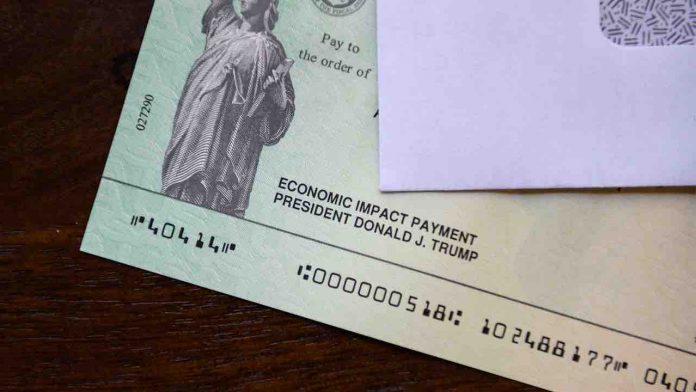 New legislation has the well-deserved reputation of moving through the halls of Congress with the speed of a sloth. The third round of direct stimulus checks to the American public represents a change. Despite Congressional infighting and opposition from a large portion of the GOP, Democrats have voted to move ahead with President Joe Biden's $1.9 trillion COVID-19 relief proposal. Using a parliamentary move called "budget reconciliation," Democrats believe they have the numbers to pass the ambitious legislation without Republican support.
Part and parcel of Biden's recovery plan is another round of stimulus checks, this one for $1,400. When added to the $600 checks sent in late December, the next round will total the $2,000 Biden promised while on the campaign trail.
When to expect your next stimulus check
The best predictor of how quickly you might see your next check is how quickly the first two arrived in your bank account or mailbox. It took the IRS a mere 19 days after the first stimulus bill's passage to send out millions of checks. When tasked with sending another round in December, the IRS was again able to pull it off in less than three weeks.
Congress is under a deadline, with existing pandemic benefits set to lapse in mid-March. In short, if they don't have another stimulus package passed by then, millions of their constituents are going to lose benefits that are helping them put food on the table and a roof over their heads. That's going to be a tough sell back home.
If Congress votes a package through by the end of February, that means that checks should be in millions of accounts by the third week of March. If passage comes in the 11th hour (mid-March), that pushes the expected date back to the first week of April.
These estimates are based on the supposition that the IRS can manage a quick turnaround in the heart of tax season. At this point, there is nothing to indicate that they can't pull it off.
Changes to eligibility
The fear among moderates regarding sending $1,400 checks to each eligible adult and dependent is that high-income earners will receive funds they don't need. To accommodate that concern to some degree, Democrats have agreed to lower the income at which payments phase out. Just as with previous bills, singles with an adjusted gross income (AGI) up to $75,000 will qualify for a full check, as will married couples with an AGI up to $150,000. The IRS will send partial payments to singles earning up to $100,000 and couples up to $200,000.
If you didn't get your first (or second) check
The IRS used your 2019 income tax return to determine your AGI. If you've moved since filing that return, that is the only address they have on file for you. If you received a refund for 2019 and had that refund deposited directly into your bank account, that's the last bank account the IRS has on file. That means that if you've changed banks since that time, they likely sent your stimulus check to the last bank on record. By law, banks are required to send those checks back to the IRS.
If you're missing either of your stimulus checks, it's not too late to make a claim. Fill out the Recovery Rebate Credit on your 2020 tax form to let the IRS know that funds are still owed. If you owe taxes for 2020, the government will keep your rebate to cover them. For example, if you owe $2,000 but missed out on the $600 stimulus check, the IRS will keep the $600, and your tax bill will drop to $1,400. On the other hand, if you are due a tax refund, the IRS will add the rebate to your refund.
The good news is that we know for sure there is another round of stimulus in the pipeline. Right now, our best guess is that it should reach you within three weeks of the day Congress passes stimulus legislation.