Outriders has been sort of ethereal since the moment of its reveal. Every time it feels like we're getting closer to actually playing it, it gets pushed back.
The latest delay was announced just last month, after many thought the game would surely be out in February as previously planned. The good news is that we will get to play Outriders this month, just not the full version.
If you're intrigued by Outriders, this guide will explore everything you need to know about the game's upcoming free demo, scheduled to go live later this week.
WHEN IS THE OUTRIDERS DEMO RELEASE TIME?
The release time for the demo was revealed through an image on Twitter. The Outriders demo will be RELEASED AT 12 P.M. EASTERN ON FEBRUARY 25, 2021. The launch will be simultaneous across all regions and platforms, so you should have no problem downloading and playing it after that time.
Square Enix has no plans to remove the demo right now, so you can try it anytime you want after February 25. If you want to know how the release time translates to your region or country, check out the image below: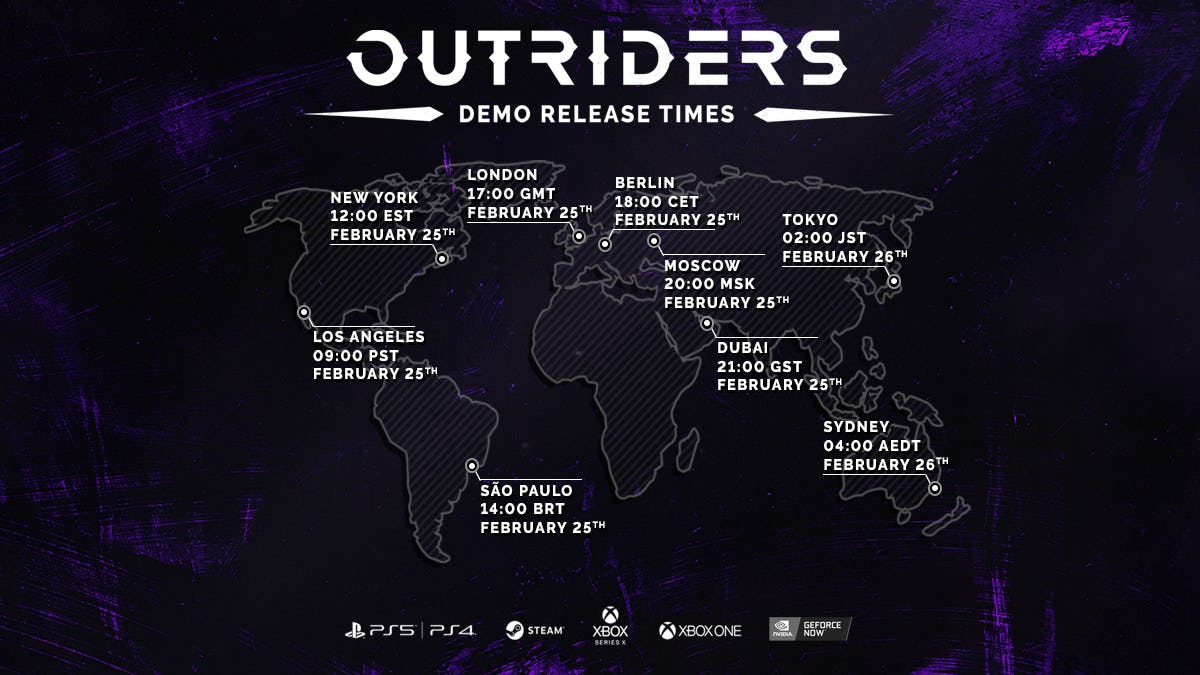 WHAT PLATFORMS IS THE OUTRIDERS DEMO ON?
The Outriders demo will be available on every platform that the game is on, with one exception. PC, PS4, PS5, Xbox One, and Xbox Series X players all can try out the game at the aforementioned release time. The only platform that is being left in the dust is Google Stadia.
Still, you'll be able to try Outriders on pretty much any platform you want to ahead of launch, though each platform has its own minor tweaks. For example, the PC version of the game will be available on both Steam and via PC streaming with Nvidia GeForce NOW. Meanwhile, PS5 and PS4 players will need a PS Plus account to download the demo.
If you have friends on other platforms, that won't be an issue either. The developers have confirmed that the demo will even support cross-play, but it is something that you'll need to opt into within the game's menus.
Outriders demo cross-play
The Outriders demo supports cross-play between all of the game's platforms. The feature is being beta tested over the next couple of weeks, so you'll need to manually turn it on in the game's settings if you want to play with friends across different platforms.
Seeing as Outriders is an entirely PvE game, there hopefully shouldn't be any dismay about cross-play here.
Outriders is out April 1 on PC, PS4, PS5, Xbox One, Xbox Series X/S, and Stadia.