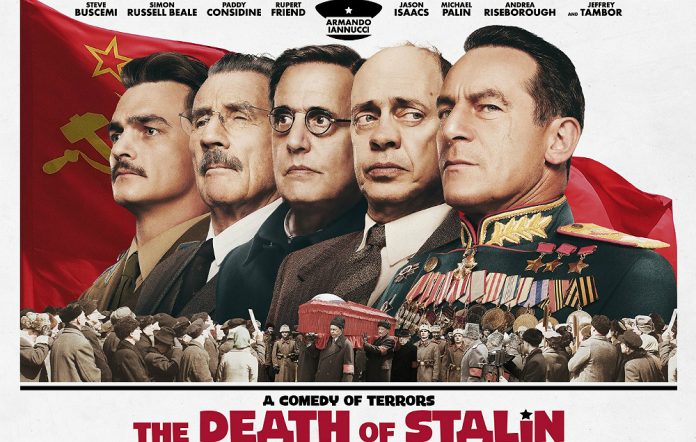 [ad_1]

The Death Of Stalin is soon to hit our screens this weekend – and the reviews are in.
The film is directed by political satire heavyweight Armando Iannucci, the creator of Veep and The Thick Of It.
The film chronicles the days immediately following Stalin's death, and the Soviet Communist Party leaders' attempts to cope with his absence. The Death Of Stalin is based on a graphic novel series by Fabien Nury and Thierry Robin.
The Guardian's Peter Bradshaw is a big fan of the film's cast, which includes documentary superstar and Monty Python icon, Michael Palin, as Molotov: "The Death Of Stalin is superbly cast, and acted with icy and ruthless force by an A-list lineup. There are no weak links. Each has a plum role; each squeezes every gorgeous horrible drop."
He concludes, "Stylishly plugging into the classic Soviet-era mode of subversive satire, and melding it with his own, Iannucci has returned to his great thematic troika of power, incompetence and bad faith."
John DeFore of The Hollywood Reporter was also a fan of the film, complimenting how, "With his co-writers David Schneider and Ian Martin, Iannucci shows how the terror Stalin created lingers after his death: Gathering to make urgent decisions, the surviving party officials cannot bring themselves to act without agreeing unanimously."
Hailing it as 'a frighteningly funny satire that finds humour in historical horror', Games Radar wrote: "A couple of performances feel a little too broad and, at times, the joke can wear thin. But the fact that anyone could make politics amusing at a time when the news is scarier than most horror movies inspires a strange hope for the future."
Meanwhile, The Mirror called it 'the funniest film of the year' before concluding that "while not quite epic in scope, excellent location work give the film a suitably grand gloss. Timely, hilarious and all…
[ad_2]

Read-Full-Article