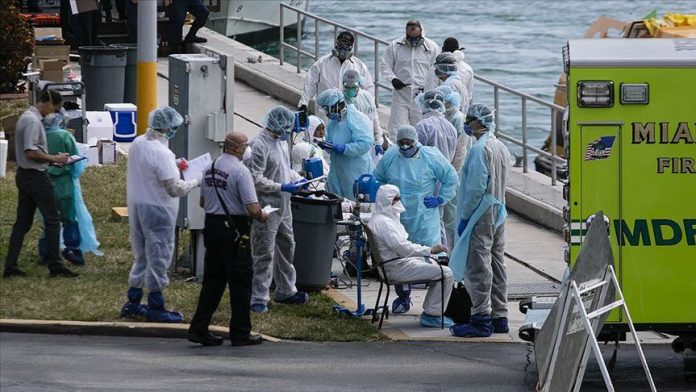 Italy has registered more than 40,000 new infections and 550 more deaths. Lombardy remains the worst hit region, accounting for 10,634 of the total 40,902 reported in the last 24 hours, followed by Piedmont and Campania.
Campania, in the south, and Tuscany are expected to be upgraded to high-risk red zones from Sunday, meaning people won't be able to leave their homes apart from for work, health or emergency reasons.
Hospitals across the country are reaching breaking point. However, the government is trying to avoid a national lockdown while it waits to see if recent measures succeed in slowing infections.
– Germany's disease control centre is reporting the nation's worst daily tally of new infections as it nears the halfway point of its new lockdown measures. The Robert Koch Institute has said Germany's states have recorded 23,542 daily cases; slightly more than the previous worst – the 23,399 seen on Saturday.
The chancellor Angela Merkel is due to hold talks with state governors on Monday, the midway point into a series of measures the government has called "lockdown-light".
Germany started a four-week partial shutdown on 2 November that is aimed at flattening a sharp rise in new infections. Restaurants, bars, sports and leisure facilities have closed, but schools and nonessential shops remain open. Officials say it is still too early to tell whether the new measures are having the desired effect.
Merkel has warned Germans to expect "difficult winter months". The health minister Jens Spahn has said nobody should expect to hold Christmas parties with more than 10 or 15 people.
– Sweden, whose unorthodox virus-fighting strategy has garnered global attention, registered 5,990 new cases on Friday; the highest since the start of the pandemic, statistics from its Health Agency show.
The increase compared with a high of 4,697 daily cases recorded earlier this month.
Sweden registered 42 new deaths, taking the total to 6,164 deaths. Sweden's death rate per capita is several times higher than that of its Nordic neighbours but somewhat lower than some larger European countries such as Spain.
– Russia has reported its worst day for new infections, with 21,983 confirmed on Friday, as Moscow prepares to close restaurants and bars overnight.
Despite a recent surge, Russian authorities have resisted imposing lockdown restrictions as they did earlier this year, stressing instead the importance of hygiene, social distancing and bringing in targeted measures in certain regions.
Moscow, which reported 5,974 new cases in the past 24 hours, has ordered bars, restaurants and nightclubs to close between 11pm and 6am from Friday until mid-January. Officials warned of raids and fines for establishments that do not comply.