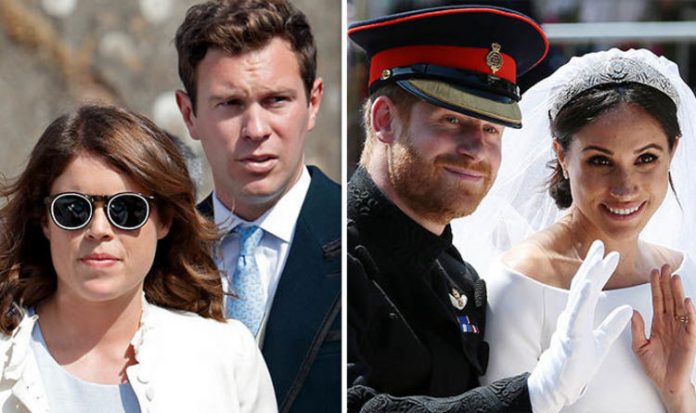 [ad_1]

Princess Eugenie's wedding in St George's Chapel and Windsor Castle is set to be a grand affair.
More than 850 guests have been invited, a significant increase on the 600 who attended Harry and Meghan's wedding in May.
According to Vanity Fair, this is because Eugenie and her dad, Prince Andrew, want her nuptials to be a properly big deal.
But there has been speculation that there won't be much interest in the wedding, with the BBC declining the exclusive rights to air the event.
Despite the seeming lack of public interest, Eugenie has invited 1,200 members of the public to her big day.
These guests will stand outside the church in the grounds of the castle during the ceremony, hoping for a glimpse of the royals and celebrity faces.
A family friend told the magazine's royal correspondent: "The feeling among the Yorks is that she deserves her moment in the spotlight and a big royal wedding with all the frills."
And it seems the couple will get just this, with the wedding shaping up to be a two-day affair.
After the Windsor Castle ceremony on Friday, the newlyweds' carriage procession will take them from the Royal Mews out of Windsor Castle and on to the High Street.
This will give members of the public the chance to see the couple from Castle Hill, the High Street and Park Street.
The procession will be followed by a reception held by the Queen at Windsor Castle.
Guests will then attend a black-tie evening reception at the Royal Lodge in Windsor, a property jointly owned by Eugenie's divorced parents, Sarah Ferguson and Prince Andrew.
Then on Saturday, the real partying will begin.
A royal source told The Daily Telegraph: "After the more formal celebration at Windsor Castle, the Saturday bash will be a relaxed party.
"There will be dodgems and funfair rides, coconut shies, lots of food stalls, loads of cocktails, Bloody Marys for the hangovers and a festival vibe."
There will be a star-studded guest list to rival Harry and Meghan's, with Eugenie counting Cara Delevingne, Ed Sheeran and Sienna Miller amongst her friends.
But while Eugenie might be keen to make her mark on the royal weddings of 2018, the source told Vanity Fair she knows her place in the family.
The source said: "It's my understanding that Eugenie and Jack decided some time ago that they wanted to get married, and there was some talk about a wedding in 2017, but they had to wait for Harry to go first.
"Eugenie is very close to Harry, and she knows how the system works."
ITV is reportedly in talks to air the exclusive rights of the October 12 ceremony.
[ad_2]