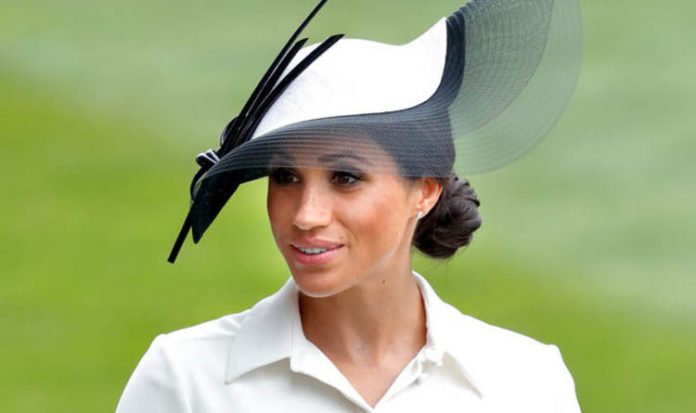 [ad_1]

Prince Harry and his new wife Meghan stepped futon their one-month wedding anniversary in their finest at the races yesterday. 
The annual five-day horse-racing event is the quintessential British day out, and one much enjoyed by the Royal Family. 
The dress code is strict, particularly for the royal enclosure – meaning Meghan had some tight rules to adhere to when picking her outfit.
The couple arrived looking every bit the loved-up royals, waving to adoring fans from their horse-drawn carriage. 
What did Meghan do wrong?
Members of the Royal Family are given a purple and white name pin to wear to the Royal Ascot. 
The purpose of the pin is to get them through security. 
All royals are expected to wear them, with the one exception being the Queen. 
Prince Harry, Prince William and Kate Middleton are spotted wearing theirs every year. 
Meghan, however, chose to hold her name pin in her hand with her clutch purse. 
The decision caused somewhat of a stir – but royal experts have confirmed it isn't a serious breach of protocol. 
Royal historian Marlene Koenig said: "Wearing pins has nothing to do with protocol.
"Protocol is for official, diplomatic, state events, including where you sit, when you enter, etc.
"Perhaps Meghan did not want to ruin that nice Givenchy dress with a pin hole."
What did Meghan wear?
"That nice Givenchy dress" has been a hot topic since the Duchess stepped out yesterday. 
The dress was an off-white button-down with a collar, full-length sleeves and detailing at the midline. 
She completed the look with a black waist belt and Balenciaga heels. 
Her clutch bag was also Givenchy – the design house proving a firm favourite of the Duchess, after designing her wedding dress. 
She completed the look with a black and white Philip Treacy hat. 
The total outfit is estimated to have cost approximately £6,500. 
The look chosen by the Duchess has been widely praised, with royal watchers calling it a sophisticated, sleek look, while still bringing her own unique style to the ensemble. 
Celebrity stylist Lucas Ermitage said:  "Meghan is showing us what she does best, taking a chic item and putting her unique spin on it."
This will be a welcome reaction for the Duchess, who faced criticism over her choice of dress at a wedding she attended last weekend. 
[ad_2]