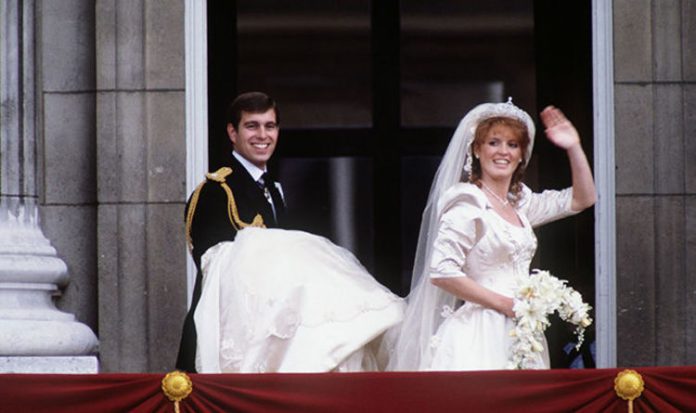 [ad_1]

The Duke and Duchess of York married on July 23 1986 in Westminster Abbey in a glorious day watched by millions of people across the world. 
Sarah often describes it as the "greatest day of my life", but experts say they married "on a rebound" after Sarah Ferguson split from racing driver Paddy McNally, who was 27 years her senior, and Prince Andrew ended his romance with ex-lover Koo Stark. 
Speaking in a recently unearthed 1997 clip of 'Fergie: Downfall of the Duchess', Judy Wade, writer and royal journalist, said: "Probably she did marry Andrew on a rebound when Paddy McNally made it clear he wasn't going to marry her.
"She falls in love easily and she always had a yen for that glamourise royal world Diana had entered.
"And I think it was a lot of factors, not just Paddy McNally, that influenced her."
Sarah dated Mr McNally before she was introduced to Prince Andrew.
Paddy McNally, now 86, was 27 years Sarah's senior, and worked at a motorsports journalist before founding AllSport Management.
The Irishman's company owned advertising rights trackside at motor events, and he sold the company to Bernie Ecclestone for £262.4 million in 2006.
The pair remain friends despite their break-up, reported to have taken place in 1985 by the Daily Mail, and Sarah stayed in his chalet in Verbier in 1997 with her two young daughters.
The businessman was also photographed with Princess Beatrice and Princess Eugenie at the Cartier International Day held at Guards Polo Club in 2004.
He is a widower and has two children.
Before he married Sarah Ferguson, Prince Andrew had a relationship with Koo Stark, an American photographer.
However, the pair split in 1983. In 1997 Andrew was named one of Stark's godparents.
In 1992 the Duke and Duchess of York finally announced their separation after spending a lot of time part while Prince Andrew was on royal duties.
Just months later, photographs emerged of the redhead receiving a toe-sucking from oil tycoon John Bryan, who was described as her financial advisor and the couple divorced in 1996.
But the pair, who have two daughters, Princesses Beatrice and Eugenie, still remain firm friends and even share a residence.
[ad_2]