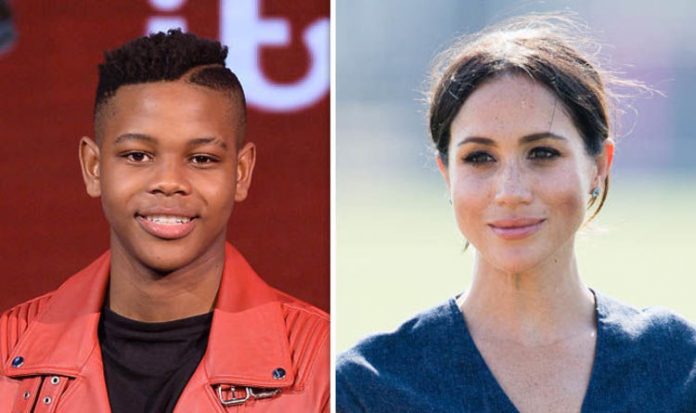 [ad_1]

Donel, a finalist on the show, revealed the Royal couple were rooting for him to win ahead of the much-anticipated finale.
Speaking to stand-in presenter Christine Lampard on the Lorraine show, he said: "Harry said to me, 'our money's on you'.
"Thanks Harry, no pressure."
The Royal couple met the young contestant backstage at the Royal Albert Hall during the Queen's 92nd birthday celebrations in April, where they expressed their support for the singer.
The meeting took place in Zoe Ball's dressing room, where Prince Harry branded Donel a "star of the future", and Meghan reportedly gave the singer a hug.
Recounting the meeting, Donel said: "Harry and Meghan walked in and I was expecting a handshake, but Meghan ran to me and gave me a hug.
"She screamed my name.
"It was crazy getting a hug from Prince Harry and Meghan Markle."
Christine Lampard responded: "Prince Harry knew you were going to be a winner and called you a big star; it doesn't get much better than that."
Donel was invited personally by Prince Harry, and performed a rendition of Pharrel's 'Happy' for the big occasion.
The opportunity to perform for the Queen was praised by Donel's coach and The Voice Kids judge Will.i.am.
He said: "I'm like 'get the hell out of here bro, you got a letter from Prince Harry to go and perform at his grandmother's birthday, who just happens to be the Queen'."
A number of A-list celebrities were in attendance at the event, including actor Matt LeBlanc and Prime Minister Theresa May.
Donel expressed his nerves prior to his performance, stating: "I looked on the TV screen just before I performed and saw shots of Theresa May and the Queen.
"I just froze a little bit. That's when it kicked in."
Donel was a favourite to win the competition, but came runner-up to 18-year-old Ruti Olajugbagbe.
[ad_2]