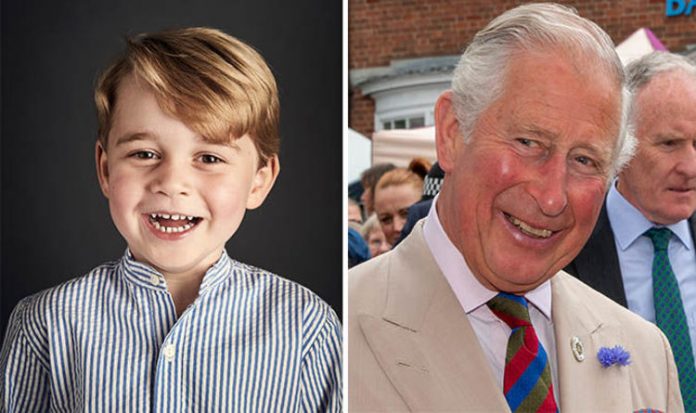 [ad_1]

One heartwarming image features Prince Charles embracing new born Prince George in his arms, with the baby looking serene. Prince William is beside the pair, smiling cheerfully at the camera.

Another rare photo of Prince George's christening will also be on display – with his mother, Kate, cradling the young royal in her arms, joined by her husband William, the Queen, Prince Philip, Prince Charles, the Duchess of Cornwall and Prince Harry. 

The picture was taken on the day of Prince George's christening, held at St James Palace, the same venue where his younger brother, Prince Louis, was baptised on July 9 this year.

George, who is fifth-in-line to the throne, will celebrate his fifth birthday privately in Mustique, in the Caribbean, where the Cambridges and Middletons are reportedly on holiday.
To commemorate the royal's birthday day, the Duke and Duchess of Cambridge are expected to release an official photo of George.
A series of never-before-seen royal family photos will go on display at Buckingham Palace, along with handpicked artwork, ornaments and artefacts, exclusively selected by Prince Charles.

The exhibition also marks the summer opening of the State Rooms in Buckingham Palace, which will begin this Saturday and end on September 30.

The public will get the opportunity to catch a glimpse of Charles' royal life throughout the years, his favourite art pieces, as well as exclusive photos of the royal family.

Some pieces on display include Johan Joseph Zoffany's painting, The Tribuna of the Uffizi, commissioned by Queen Charlotte in 1772, and the cloak of Napoleon Bonaparte, which was found discarded in a carriage in 1815, following the Battle of Waterloo.
There will be no text description boxes next to the pieces but instead, Prince Charles, 69, has made audio commentaries for each display.

In the commentary for the piece, Prince Charles said: "Since, as a child, I first caught sight of this cloak in the Grand Vestibule at Windsor, I have been fascinated by the sheer magic of the colour, the dashing pattern of the lining and the enthralling story of Napoleon himself which it conjures up."

Vanessa Remington, senior curator of paintings at the Royal Collection Trust said: "This is a very personal show.

"It's a departure because it is not a standard museum display and the works aren't shown in isolation, they're shown in profusion very, very densely."
The artwork is arranged in an octagonal room, with tables filled with various pieces chosen by the Prince of Wales – ranging from books, family photos, artwork and decorative items. 

Ms Remington added: "(Tables) are dressed with a range of objects and those are intended to show or give a flavour of the interiors of the Prince of Wales's own residences because this is a very personal show."
[ad_2]