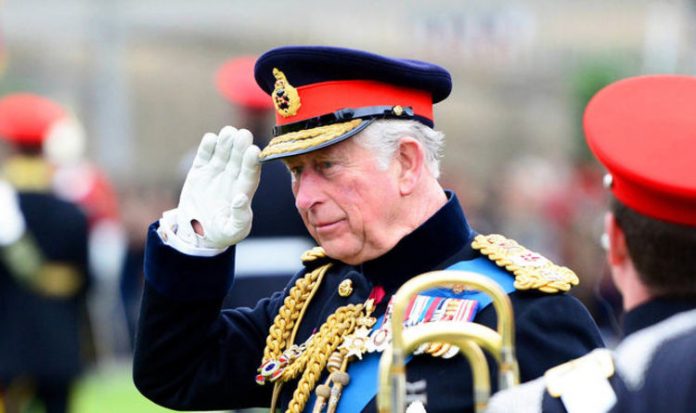 [ad_1]

The Prince of Wales, who is Royal Honorary Colonel of the Queen's Own Yeomanry, attended the consecration service at Bramham Park House, Wetherby, alongside some 130 members of the unit, both serving and retired.
He presented the new Guidon to the commanding officer and regiment and gave a short speech commending the unit's "exceptional contribution".
He said: "The Guidon that has been marched off parade today represents over two centuries of volunteer service to the crown at home and abroad – service which has continued to this day.
"I acknowledge with immense gratitude and undying admiration the truly exceptional contribution that your officers, soldiers and families provide so selflessly to the defence of the realm.
"You set us an outstanding example that I, for one, do not take for granted."
Wearing his ceremonial frock coat and sword, Prince Charles posed for a regimental photograph outside the 18th-century country house before a reception involving around 200 troops and their family and friends.
The Queen's Own Yeomanry is an Army Reserve reconnaissance unit which makes use of light armoured vehicles to scout ahead of other friendly forces and gather intelligence on the enemy.
Troops from the regiment have served in Afghanistan and Iraq.
Warrant Officer Second Class David William, who marched the old standard off and the new one on, said it was an "honour".
He added: "It was a wonderful opportunity to meet the prince, he joked about the fact that the weather has improved."
Today's ceremony is the second time in the regiment's 47-year history it has received the honour of a new standard.
The Prince of Wales last presented the Queen's Own Yeomanry with a new Guidon in September 2007.
The swallow-tailed Guidons evolved from banners carried by Knights of the Middle Ages.
They are typically crimson with gold trim and feature the regiment's insignia in the centre.
[ad_2]