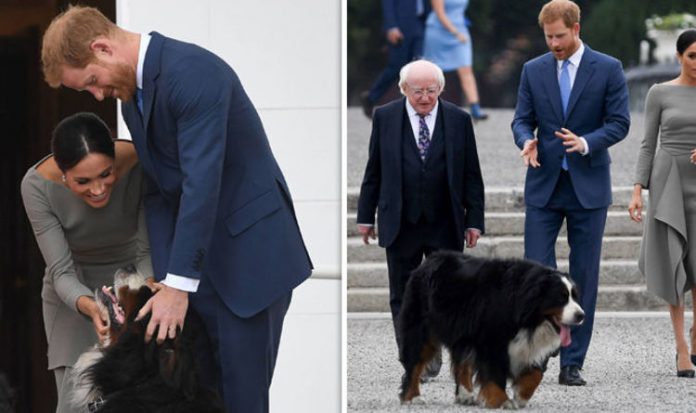 [ad_1]

The newlyweds were greeted by their hosts' adorable dogs, Brod, a male and Sioda, a female, when they walked around the grounds of President Higgins' official residence on their second day of engagements in Ireland.
In their engagement interview in November 2017, the 33-year-old ginger heir revealed that the Queen's corgis were also very fond of Meghan.
Meghan also added that they were laying on her feet during tea when she met the monarch.
The Queen has been very fond of corgis since she was a small child, her final loyal corgi Willow died in April and the monarch was reportedly hit "extremely hard" by the loss.
She still has two dogs, Vulcan and Candy, which are informally known as "dorgis" – a cross-breed between a dachshund and a corgi.
In Ireland, the stunning Bernese Mountain dogs kept running over to Meghan and Prince Harry demanding their attention.
The dogs names are Gaelic, Brod means pride and Sioda means silk.
Meghan has rescued two dogs, one of which is called Guy and lives with her in the UK and the other now lives with her close friends in the US.
She has called her dogs her "babies" in the past.
Kensington Palace tweeted: "Thank you to the President of Ireland Michael D. Higgins, Mrs Higgins (and Bród and Síoda!) for the warm welcome at Áras an Uachtaráin."
The dogs' fans even called for them to have their own Twitter account.
Meghan was wearing a taupe green dress by the designer Roland Mouret when she met Mr Higgins before she changed into a sleek black suit.
Yesterday during his Ireland visit, Prince Harry said that there was a very "special relationship" between England and Ireland.
He said: "We share common values; culture, business links, family ties, and possibly a similar sense of humour.
"Our relationship is of course informed by our history, but it is also one which is now dynamic and forward looking."
Ireland is Meghan and Prince Harry's first overseas visit since they tied the know earlier this year.
The royal couple also visited Dogwatch Labs, which are one of Europe's leading startup hubs based in the CHQ building in Dublin's Digital Docklands.
[ad_2]