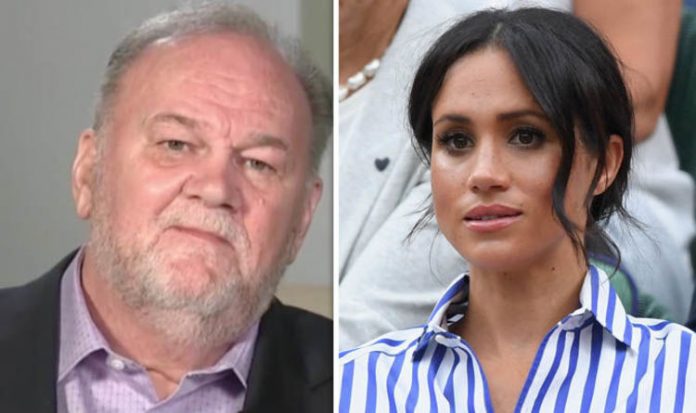 [ad_1]

In his latest shocking chat to the press, Thomas Markle Snr claimed he has been frozen out by the Duchess of Sussex after he spoke about Meghan's longing for a baby.
Speaking to the Mail on Sunday, he said: "Meghan was apparently upset with me for saying that she and Harry will probably have a baby soon."
The former Hollywood lighting director claimed he was confused at her reaction because the Duchess has been desiring to become a mother for years.
He said: "But Meghan's been saying that herself for the past six or seven years, talking about how much she wants a family.
"Harry's been saying it too. That's fine. 
"But the moment I say it, I'm persona non grata."
His harsh words against his daughter comes just days before Meghan's 37th birthday on August 4.
Mr Markle, 74, also said he is fed up with the Windsors.
He said: "I've just about reached my limit with Meghan and the Royal Family." 
And in an unprecedented attack aimed directly to the Duchess of Sussex, he added: "What riles me is Meghan's sense of superiority.
"She'd be nothing without me.
"I made her the Duchess she is today.
"Everything that Meghan is, I made her."
In the run-up to Meghan and Prince Harry's wedding on May 19, Mr Markle staged paparazzi pictures later sold to the media. 
And he also breached the royal protocol by revealing to ITV Good Morning Britain's host Piers Morgan what he claims are Harry's political view on Brexit and US President Donald Trump, despite the royals are supposed to remain politically impartial.
Despite these outburst from the former recluse are said to have upset the Queen and infuriated Buckingham Palace officials, he doesn't plan to stop speaking up and went as far as demanding Meghan to show him some gratitude.
He said: "When Meghan was 11, she moved back in with me up until she was 17 and went to college.
"I was having my good years then, making good money, and could afford to give her the best, with a good school good education, good home. 
"She became the woman that she is today thanks to everything I did for her.
"And did I get any recognition for it? Any thanks?
"She doesn't even speak to me now. How cold is that?"
A Buckingham Palace spokeswoman told Express.co.uk they would not comment on Mr Markle's remarks.  
[ad_2]