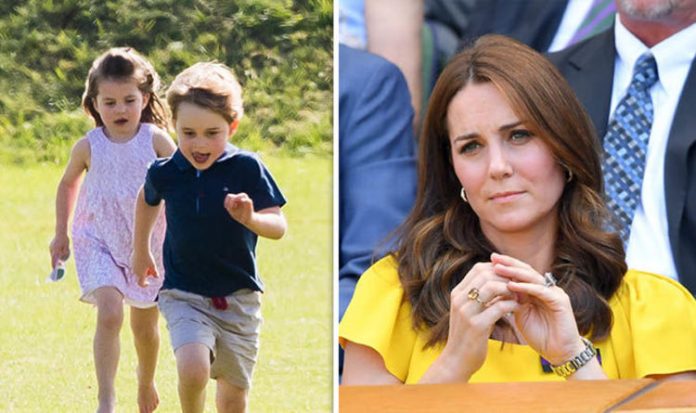 [ad_1]

George, five, and Charlotte, three, will be heading back to school after their summer break, where they enjoyed much needed bonding time with new born brother Prince Louis and parents, Kate and William.

To get her little ones ready for their big day, Kate was seen shopping for school shoes at Peter Jones in London a few weeks ago – but made one key error.

The hands-on mother brought George and Charlotte along to try on shoes, but forgot one crucial item – socks, according to a source who told Hello Magazine.
The children, who were wearing sandals, had to borrow socks from the shop keeper to try on their new shoes.
Most parents can relate to purchasing footwear for little ones – who often outgrow them really quickly – so socks are essential to tell what shoe size truly fits them.

On Wednesday, Kate and William are expected to accompany their children, George and Charlotte, as they head back to school.

George will start Year One at Thomas's Battersea while Charlotte will head back to Willocks Nursery School.

Last year, Kate was unable to make the school run as she suffered from severe morning sickness while pregnant with her second son, Prince Louis.
However, the Duchess was spotted sending George to school just a day after giving birth to Louis in April.

One parent previously told the Daily Mail: "No one really gives Kate a second glance when she does the school drop-off. 

"We have a Victoria's Secret model doing the school run, too, and the dads are far more interested in her!" 

Prince William accompanied George on his first day of school last year.
The young royal looked nervous as he made his first steps into Thomas's Battersea, clutching his father's hand before greeting head teacher, Helen Haslem.

The £17,604 a year private school has a strong focus on the arts, sports, academics and outdoor activities – including ballet and swimming lessons.

The young royal has a lot to look forward to for the oncoming year, with a chance to develop his "physical skills, stamina, creativity, expression and musicality," according to the school's official website.

Speaking about why William and Kate chose Thomas's Battersea for George, a source said: "They thought long and hard about where George should be educated and really liked Thomas's, which has a lovely nurturing atmosphere.
"The school focuses as much on helping develop the character of pupils, as what they learn. William and Kate are keen to allow George to spread his wings and make friends at this stage.

"They know there will come a time when they will have to sit down and talk to him about the implications of his royal status and why so many people are interested in him. He is becoming more aware of the cameras. 

"But they are determined to do that at George's own pace and feel that can all wait a bit."
[ad_2]