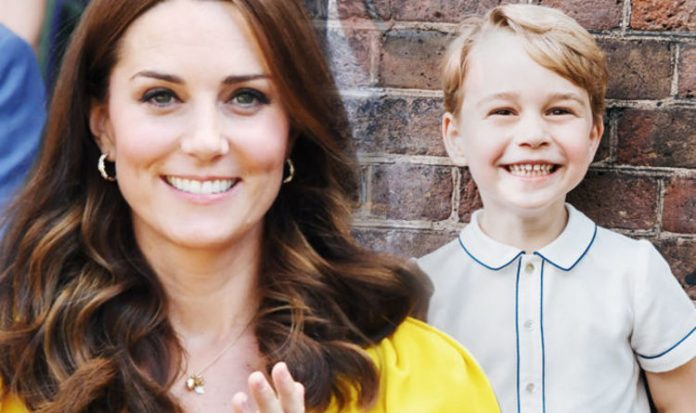 [ad_1]

The Duchess was born and raised in Reading, England, away from the spotlight – prompting her and William to do the same for their three children – George, Charlotte and newly born Prince Louis.

Mr Jeffrey Hughes, child educational psychologist, said that the Duke and Duchess of Cambridge have attempted give their children as much of a "ordinary" life as possible, adding that this would have a "positive" impact on them in the future.

He said: "Kate Middleton comes from a relatively normal family, and this will be to George's benefit.
"Kate and William are known to be hands on parents, and William has shown himself to be a relatively stable character, which will positively influence his children's lives."
However, Mr Hughes said that Kate and William's children would inevitably be put in the spotlight, which would impact them in one way or another, despite William and Kate's attempts to create a normal life for George, Charlotte and Louis.

The expert said: "The royal family and the children will always be of interest to the public.

"Many celebrities and film stars try to protect their children and keep them out of the spotlight, however the royal family controls it but also embraces it.

"The children are going to be in the spotlight and have to learn to control themselves.

"It will have a massive impact on how they perceive themselves, but we will see as time goes by.

"You can't predict it, the only thing you can do is to provide them as much of a good experience as possible.

"Children respond positively and negatively in the way they were supported and developed during childhood."

Prince George was born on 22 July, 2013, and is the third in line to the throne after his grandfather, Prince Charles and father, Prince William.
Princess Charlotte is fourth in line to the throne, and followed by newly born Prince Louis, who is fifth in line.

Kate and William have strived endlessly to instil a sense of modesty in their children, and are known to even pass hand-me-downs to the younger royals – Charlotte was seen wearing her brother's blue cardigan during a children's party in 2016.

The Duke and Duchess have only hired one full-time nanny for their children, and have dismissed the usual team of staffers that tend to royal families.

In 2016, Prince William told the BBC: "As far as we're concerned, within our family unit we are a normal family.

"I love my children the same way any father does and I hope George loves me the same way any son does to his father, so we are very normal in that sense."

Katie Nichol, author of Kate, has also previously mentioned how "William loved that Kate had a 'normal childhood' and would love to 'emulate' that for his own family".

She added: "I think William loves that about the Middletons."
[ad_2]