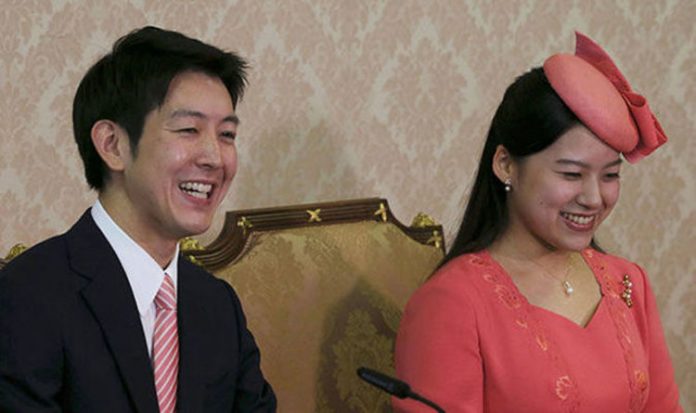 [ad_1]

The 27-year-old said she would like to "build a bright household where smiles never end" with shipping worker Kei Moriya, 32, after the pair tie the knot in October.
Princess Ayako's engagement, announced last month, will mean she will have to leave the Japanese royal family as soon as she says 'I do'.
Under Japanese imperial law, a princess is required to leave the Royal Family when she exchanges vows with a commoner, a law which doesn't apply to male members.
The pair will officially make their engagement on Sunday, August 12, and will marry at Tokyo's Meiji Jingu shrine on October 29.
Speaking about her future plans for children during a press conference, Princess Ayako highlighted the deaths of her father and Mr Moriya's mother.
She said: "I would like to build a bright household where the smiles never end.
"With the loss of my father, and Mr Moriya of his mother, we both have the experience of having an irreplaceable part of the family suddenly go missing, so we have a shared awareness that what we have today will not necessarily be with us tomorrow.
"Without falling into everyday patterns, both of us feel that we would like to do every little thing together with joy and happiness."
Mr Moriya said he hoped to bring children up in a "bright household where the smiles never end, and I would add that a relationship based on mutual respect is more important than anything".
Princess Ayako, the youngest daughter of Emperor Akihito's late cousin Prince Takamado, met her husband-to-be, who works for shipping firm NYK Line, through her mother, Princess Takamodo, in December last year.
Princess Takamodo knew Mr Moriya's parents from her work at a local NGO and had hoped by introducing her daughter to him, she would be inspired by global welfare activities.
However the pair discovered they had a lot more in common and he proposed to her in a restaurant, where Princess Ayako didn't give him an answer straight away.
She said: "It was very sudden, so I asked to hold for my answer.
"As we have deepened the relationship including our family, friends and related people, I came to the decision and accepted this proposal."
When Princess Ayako and Mr Moriya get married, the Japanese Royal Family will only consist of 17 members.
The princess told how she fell in love with her husband-to-be's "kind, smart and decisive" personality.
She said: "I don't know what my mother's intentions were in introducing him to me, but as the two of us went to various places together and shared our time and memories, we became naturally drawn to each other.
It comes just two years after Princess Ayako's cousin Princess Mako, 26, gave up her royal status to follow her heart and marry paralegal Kei Komuro.
Princess Ayako's older sister, Princess Noriko, also left the royal family in 2014 to marry commoner Kunimaro Senge.
[ad_2]