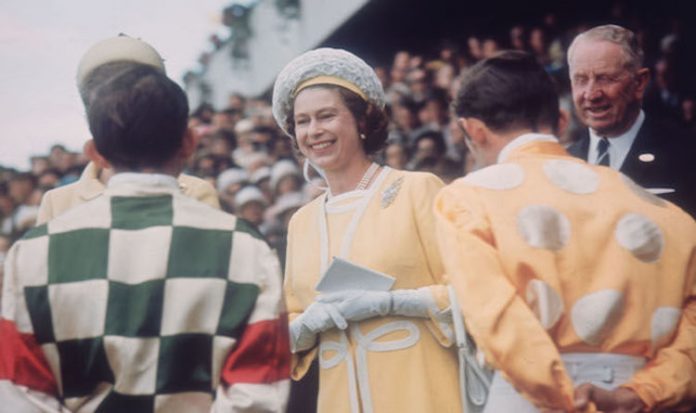 [ad_1]

The Queen is the sovereign figure in Australia and each and every citizen in the country is entitled to receive a special gift – a portrait of Her Majesty.
Australian citizens, under the Parliamentary Entities Act of 1990, can receive "nationhood material", including recordings of the National Anthem, a booklet explaining the flags of Australia and and a book covering the national symbols of the country.
But the "constituents' request program" also entitles Australian citizens to their very own portrait of Queen Elizabeth II and her husband Prince Philip.
Those who wish to own their own royal portrait are required to email their federal MP to request the portrait, which depicts the Queen wearing an Australian coat of arms label pin.
She is also wearing a brooch, which as presented to her during her first royal tour of the country in 1954.
Surprisingly, UK citizens must buy the portrait – and in Canada the picture is downloadable.
This is because the photo is seen as an eductational aspect of Australia's history – meaning that other Commonwealth countries such as New Zealand, India, and South Africa – do not have an equivalent picture or heritage "package".
Since the little-known fact that Australians can have their own free portrait of the Queen became public knowledge, citizens have rushed to request their own copy.
MP Rebekha Sharkie wrote: "We've received more than 25 requests for a portrait of Queen in the last 12 hours.
Tim Watts, an MP in Victoria, joked: "I do find this to be comfortably the dumbest part of my job. But be warned youth of Gellibrand: if you request a portrait of Liz, there's nothing stopping me sending you some other 'material' in the same parcel."
The project's funding has been called into question in the past.
Speaking in the Australian parliament in 2012, MP Bob Brown said: "If there is extra money available. I suggest that it go to ensuring that Indigenous people in Australia who are being deprived of their first languages be given an education in their first languages and that we stop some first languages going to extinction in this country.
"I think that might have priority. However, if there are members opposite who cannot find a picture of Her Majesty, I would be happy to provide them with one."
[ad_2]