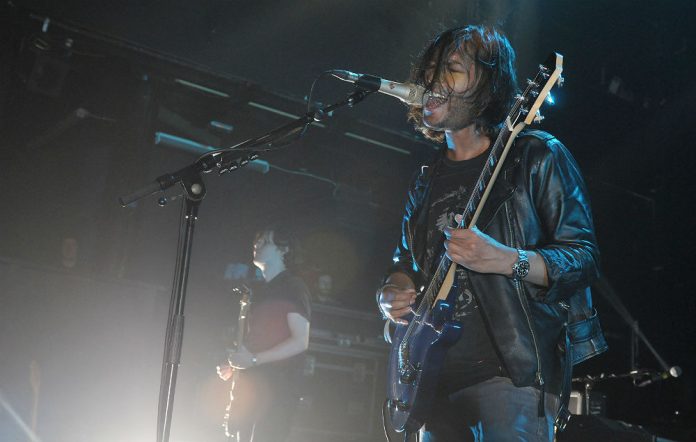 [ad_1]

My Vitriol are back – announcing details of a UK tour as well as unveiled a new version of 'Under The Wheels. Hear it first on NME below.
Hailed by NME readers as an 'Album Perfect From Start To Finish', their cult debut album 'Finelines' will be celebrated along with 'Between The Lines' at two upcoming shows with …And You Will Know Us By The Trail Of Dead at Koko in London next month. Trail Of Dead will also be performing the classic 'Sources Tags And Codes' and 'Madonna' in full at the shows too.
This will be My Vitriol's first full UK tour since they went on hiatus in 2002. The band's bass player Tatia Starkey (grand daughter of Ringo Starr) is on maternity leave, so Bloc Party's Russell Lissack will be joining the band on bass –  along with numerous other guest appearances from friends, and labelmates from over the years.
My Vitriol – Under The Wheels (2017 recording) by Som Wardner

Nov UK Tour – with …Trail of Dead http://my-vitriol.com/shows November: 4th – Bedford Esquires 8th – Edinburgh 9th- Leeds Brudenell Social Club 11th – Coventry Kasbah 12th – Bristol Thekla 13th – Nottingham Rescue Rooms 14th – Newcastle Academy 15th – Manchester Gorilla 19th London Anniversary Special Part I 20th London Anniversary Special Part II via http://my-vitriol.com/store Som Wardner – Vocals, Guitars, Piano, Synth, Bass Ravi Kesavaram – Drums Seth Taylor – Lead guitar All lyrics & music composed by Som Wardner Recorded at MVHQ New release "The Secret Sessions" streaming: https://open.spotify.com/album/2xvX0NftkETkUgYNWxBHtw YouTube playlist: http://tiny.cc/MV2016
My Vitriol tour
The band's full upcoming UK tour dates are below. Tickets are available here.
4 November – Bedford – Esquires Music Venue
8 November – Edinburgh – Summerhall
9 November – Leeds – Social Club
11 November – Coventry –…
[ad_2]

Read-Full-Article