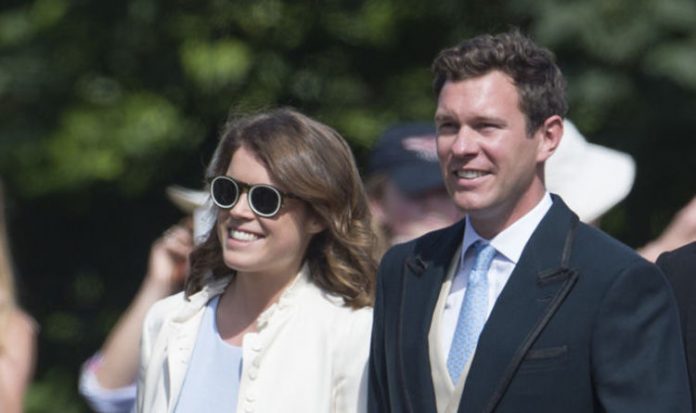 [ad_1]

A leaked image of the embossed invite, seen by Vanity Fair, shows invited were sent out from Eugenie's divorced parents the Duke of York and Sarah Ferguson.
Guests have been sent elegant invitations featuring black font on white paper to the wedding at St George's Chapel and reception at Windsor Castle with RSVPs to be sent to Buckingham Palace.
The dress code, according to the image of the leaked invite, is morning coat for men and day dress with hat for women.
The invite reads: "His Royal Highness The Duke of York and Sarah, Duchess of York request the pleasure of the company of …at the Marriage of their daughter Her Royal Highness Princess Eugenie of York with Mr Jack Brooksbank at St George's Chapel, Windsor Castle on Friday 12th October, 2018 at 11am followed by a Reception at Windsor Castle.
It's believed guests will later enjoy an evening reception at Prince Andrew's Royal Lodge residence.
The invitation has drawn parallels with Eugenie's cousin Prince Harry and Meghan Markle's wedding invites.
Kensington Palace confirmed the Duke and Duchess of Sussex sent out invitations, produced by Barnard & Westwood, which were die-stamped in gold and then burnished with the edges bevelled then gilded.
Princess Eugenie will also take part in a carriage procession around Windsor after the ceremony – similar to the parade Meghan Markle and Prince Harry undertook after their May wedding.
A source told Vanity Fair: "Andrew and Sarah have been very involved with the planning, and they both want this to be a full-scale royal .
"They were very keen for Eugenie and Jack to have a carriage procession. Poor Eugenie has been having last-minute jitters about whether people will turn out, and what the weather is going to do."
As well as 850 invited guests, there will also be 1,200 member son the public, chosen by a lottery, who will be allowed into the castle grounds to witness the guests arriving and to see the newlyweds leave St George's Chapel.
Eugenie, 28, and Mr Brooksbank, 31, announced their engagement in January with the couple following in the Duchess of York's footsteps with a distinctive engagement ring.
Official engagement photos released by Buckingham Palace revealed Princess Eugenie wearing a ring containing a red and yellow padparadscha sapphire surrounded by diamonds on a gold band.
The ring, surrounded by diamonds, bears a striking similarity to her mother the Duchess of York's ring.
Prince Andrew proposed to the Duchess of York with a colourful Burmese ruby stone surrounded by 10 diamonds on a yellow gold band.
[ad_2]