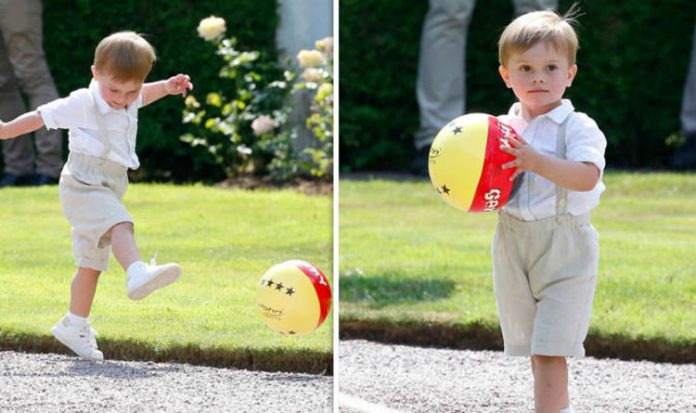 [ad_1]

The two-year-old, who is the only son of Princess Victoria and Prince Daniel couldn't hide his football frenzy during the royal celebration.
The family gathered for the princess' 41st birthday at Solliden Palace, the Swedish royals' summer residence in Öland, just off the southeast coast of Sweden.
Crowds gathered to give their well wishes to Victoria, who posed for selfies and photographs during her meet and greet.
And while she was speaking with members of the public, little Oscar kept himself amused by chasing his bright ball, curiously sporting not the colours of Sweden but of the Germany's flag. 
Victoria and Daniel's youngest child rocked his white button-down shirt, beige dungarees and white sneakers while showing off to family and guests his football skills.
He happily shared his football with his father Prince Daniel, who joined the little prince during his personal football match, allowing those attending the celebration to witness a sweet father-son moment.
Despite his passion for the beautiful game, Prince Oscar, who is the third in line to the Swedish throne, didn't fail to carry out his royal duty.
Holding his mother's hand, he walked towards the crowd of well-wishers gathered on palace grounds to pay his respects. 
And he also stood proudly between his sister Princess Estelle and grandmother, Queen Silvia, for snaps marking the official pictures of the event on Saturday.
His grandfather, King Carl XVI Gustaf, was also at the palace and joined the happy family for the pictures and a brief speech held in the garden.
Prince Oscar, who was born on March 2 2016, had already stole everyone's heart at last year's Princess Victoria's birthday.
On that occasion, the toddler was wearing a light blue dungarees and seemed more interested in checking out the flowers and bushes of the garden rather than in football. 
Despite being only two, the young royal has already attended a number of official events.
He even met Kate Middleton and Prince William in January with his mother, father and sister during the Cambridge's tour of the Nordic countries.
The two families were pictured having tea at Haga Palace, the Crown Princess' official residence, in a relaxed atmosphere.
Crown Princess Victoria, 41, and Prince Daniel, 44, were guests at Kate and William's 2011 Royal Wedding – but failed to make the guest list for Meghan Markle and Prince Harry's big day.  
[ad_2]