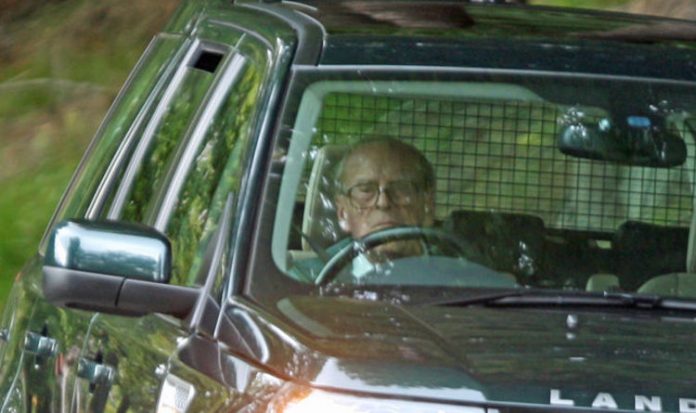 [ad_1]

The Duke of Edinburgh, 97, was photographed while cornering a bend in his racing green four-wheel-drive.
He was wearing spectacles for the journey and looked calm and controlled while he motored around Balmoral on his annual extended summer break.
Despite undergoing hip surgery earlier this year, Prince Philip clearly has no intention of letting that slow him down.
Nobody else was in the car and Prince Philip seemed to be enjoying his freedom during his solo drive. 
Pictures show him zooming past a motorbike on a dry but grey day.
The Prince has always been a keen driver and just two weeks after his surgery in June this year, the Duke was spotted back in the saddle of his Land Rover in Windsor. 
While officially retired from royal duties since August 2017, Prince Philip keeps himself busy with some of his favourite hobbies.
In August royal sources told The Sun, Philip was fishing and hunting during the royals' summer break at Balmoral.
An insider said: "He no longer shoots after having a stent in his heart a few years ago, but he loves fishing and sometimes stands for hours in the River Dee. For his age he's as fit as a fiddle".
Philip has clearly enjoyed spending some quality time with loved ones during this summer break, and was seen with the Queen and his extended family for a trip to Church on August 19.
He was photographed in a sleek grey suit, blue shirt and blue tie on the way to a service at Crathie Kirk Chuch.
The Queen, who attends the Sunday service at Crathie Kirk Church every week while holidaying in Balmoral, was pictured wearing a cream dress and matching hat. 
Also in attendance were Zara Tindall, the Queen's granddaughter, and her husband Mike.
The Tindall's welcomed their second child in June.
The Queen's third son, Prince Edward and his wife Sophie Wessex joined athe group as well, along with their 14-year-old daughter Lady Louise.
Before the Crathie Kirk service on August 19, Prince Philip was last seen publicly at the Royal Windsor Cup polo match in Egham in June.
[ad_2]