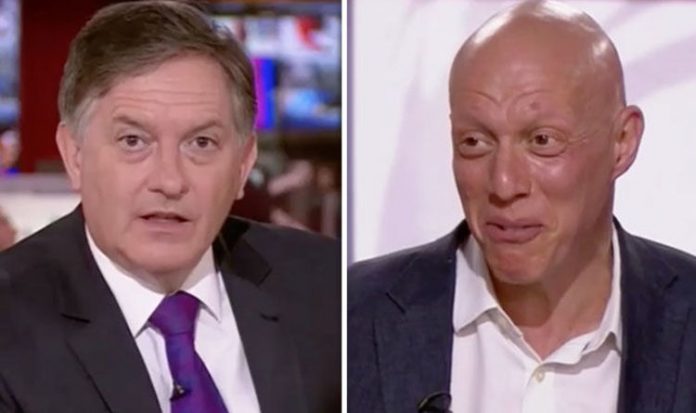 [ad_1]

The veteran BBC newsreader was discussing a video released by Buckingham Palace revealing the route food travels between the royal kitchens and the Chinese drawing room, where the Queen eats.
The video was released today as part of the 10-year, £369 million taxpayer-funded refurbishment programme designed to extend the working life of Buckingham Palace.
The journey from kitchen to table can take up to five minutes.
Mr McCoy remarked: "Looking at that, it's a wonder any food is warm by the time it reaches Her Majesty."
Royal correspondent Jonny Dymond said: "You have to pity the royal family and their guests.
"I have been in touch with the royal palace, and a source tells me that journey takes between three and five minutes."
Mr McCoy quipped: "And sauces take just as long, I imagine.
"That's very funny," Mr Dymond charitably replied.
Major work is being taken to refurbish the official Royal residence, which has been described as "shambolically old".
Key infrastructure including heating systems, boilers, plumbing and electrical wiring will be replaced in the major overhaul designed to extend the working life of the Palace by 50 years.
The Palace's electrical wiring has not been altered since being installed in the late 1940s and is now considered a fire risk.
The money will come from a 66 percent increase in the Sovereign Grant – the funding formula for the monarchy's official duties – for the 10-year period
When the work is finished in 2027, the grant should be returned to its current level of 15 percent, a review by the Royal Trustees recommended in 2016.
Mr McCoy notoriously mocked Prince William and Kate Middleton's pregnancy announcement last year, sarcastically telling viewers to "clear your diaries" after receiving the breaking news on air.
[ad_2]