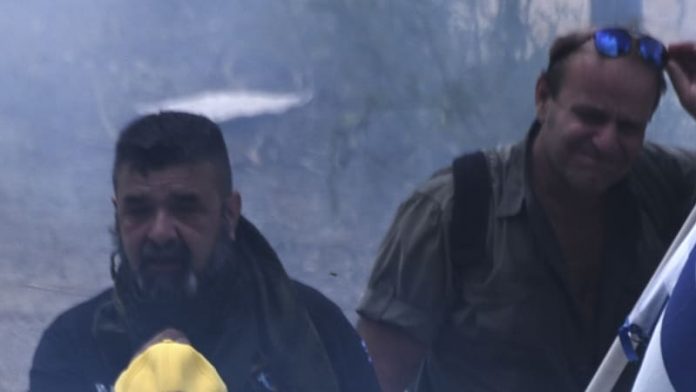 [ad_1]

A woman was hit on the head by a rock and a man was being treated for breathing trouble, health officials said, as about 500 demonstrators waving Greek flags tried to approach the signature ceremony.
Under the agreement, Macedonia is to be renamed Northern Macedonia. In return, Greece will drop its long-standing block on its northern neighbour joining NATO and the EU, and end objection to the use of the Macedonia name.
"This is a brave, historic, and necessary step for our peoples," Greeke Prime Minister Alexis Tsipras said as he watched the lakeside ceremony.
Macedonia Prime Minister Zoran Zaev called upon Greeks and Macedonians to "step out of the past and look to the future".
The signing was a personal triumph for the two leaders, despite opposition in both countries. Tsipras survived a no-confidence vote over the deal on Saturday, while Macedonian President Gjorge Ivanov has threatened to veto the name change. Ivanov's veto cannot prevent the change, but only delay it.
But the agreement has to be put to the Macedonian public in a referendum and ratified by both countries' parliaments. Macedonia joining NATO could also anger Russia. "Moscow has noticeably refused to endorse the agreement," said Professor James Ker-Lindsay of St Mary's University, Twickenham. "There will be fears that Russia may try to somehow influence the vote."
If ratified, the deal will end the compromise under which Macedonia had to be referred to as the Former Yugoslav Republic of Macedonia at the UN and other bodies.
The dispute dates back to the break-up of the former Yugoslavia. When Macedonia declared its independence in 1991, there was already a Greek region of the same name. Greece objected to the new country's use of the name. But the roots of the issue go back much further, to Alexander the Great, who died in 323BC at the age of 32. Alexander was born in Pella, in ancient Macedonia, which lies in the modern Greek region of Macedonia.
Greece accused Macedonia of attempting to appropriate one of its cultural icons. For Macedonians, the name and their history as part of Alexander's empire gave them an identity separate from their Yugoslav past. A tug-of-war ensued, in which Greece blocked Macedonia from using the Star of Vergina, a symbol associated with Alexander, as its flag, and Macedonia built oversized statues of him in its capital, Skopje.
Telegraph, London
Morning & Afternoon Newsletter
Delivered Mon–Fri.
[ad_2]