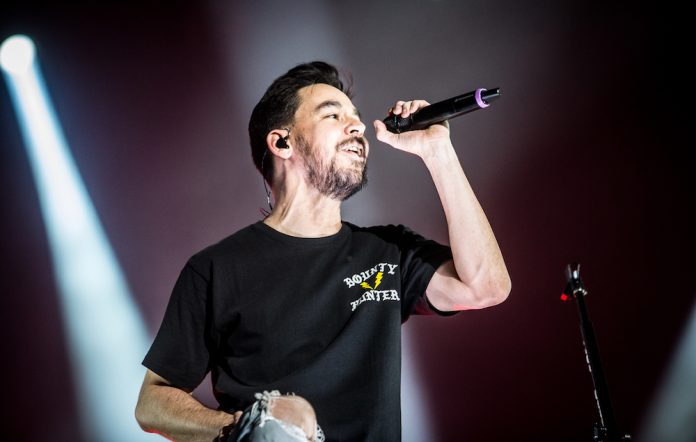 [ad_1]

'Looking For An Answer' was premiered at the memorial concert in honour of the late frontman in LA last night (October 27)
Last night (October 27), Linkin Park's Mike Shinoda debuted a new song, written in tribute to Chester Bennington.
The band's frontman passed away in July at the age of 41 after taking his own life. His bandmates held a memorial concert in his honour at Los Angeles' Hollywood Bowl last night.
During the show, Shinoda premiered the tribute song, 'Looking For An Answer', which saw him performing solo. It's opening verse began: "There's an emptiness tonight that wasn't' there before/And I keep reaching for the light/I can't find it anymore."
Later, the chorus saw Shinoda sing: "Was I looking for an answer when there never really was one?" You can watch footage of the performance below, via Stereogum.
The concert marked Linkin Park's first since Bennington's death. They were joined throughout the night by Blink-182, Alanis Morissette, No Doubt, System Of A Down and more.
After the band performed 'In The End' with fans taking over vocal duties, Bennington's wife Talinda gave a speech remembering her late husband and praising his life, career and Linkin Park fans across the world, adding: "It is time that we recognised that mental health is as important as our physical health. It is my mission to make it easier for people to have access to mental health resources."
You can watch the entire live-stream of the Chester Bennington tribute show below, with 'In The End' beginning at the 2:28:30 mark and Talinda Bennington's speech starting at 2:35:00.
All proceeds from last night's show will benefit Music for Relief's 'One More Light Fund' in memory of Bennington.
FOR HELP AND ADVICE ON MENTAL HEALTH:
[ad_2]

Read-Full-Article