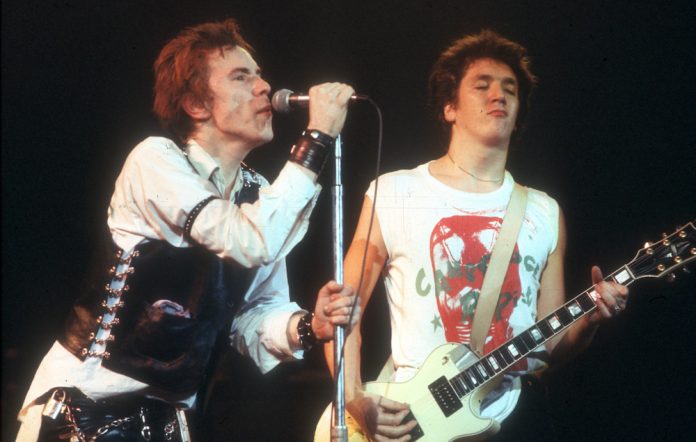 [ad_1]

Sex Pistols' Steve Jones has spoken to NME ahead of the punk band's upcoming deluxe edition of their seminal 'Never Mind The Bollocks, Here's The Sex Pistols' album.
The iconic group's classic album will be reissued to celebrate the record's 40th anniversary. Label USM/UMC has announced that the out-of-print deluxe edition of the album, which was originally released in 2012, will now be re-released on December 1. You can pre-order it here.
As well as this, a new book called The Sex Pistols 1977: The Bollocks Diaries is out on October 26. It tells the story of the "chaos and creation" of the band's famous record, as told by the Pistols themselves. Buy it here.
Surrounding these two releases, Sex Pistols guitarist Jones spoke to NME about the legacy of 'Never Mind The Bollocks', saying: "We didn't really have any expectations and that's probably why it is still talked about".
He also revealed why he wouldn't reunite with the Sex Pistols again in the future and what he thinks about John Lydon's controversial Donald Trump comments.
Read NME's Q&A with Sex Pistols' Steve Jones below:
It's been 40 years since 'Never Mind The Bollocks'. When you were recording the album, did you think you'd still be talking about the record four decades later?
"No, not at all, you never know that. We were just doing it, we didn't really have any expectations and that's probably why it is still talked about – because it wasn't preconceived, we just didn't know where it could go. It wasn't like a band who went to a record label and the record label said 'I don't hear any singles here', you know? We were just coming from a different place where it was more about 'this is what we do and we want to get it on to tape'. It's just one of those things — short lived, but it's quite amazing really that forty years…
[ad_2]

Read-Full-Article