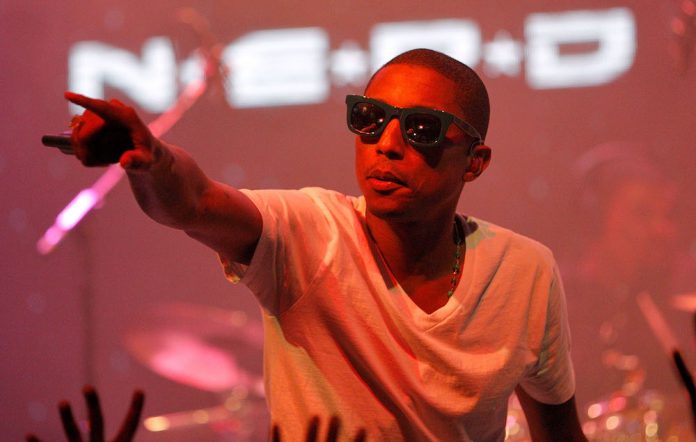 [ad_1]

A new single from N.E.R.D. looks set to revealed tomorrow (November 1).
The Pharrell Williams-led group last released new music in 2010 with the fourth album 'Nothing'. The band confirmed their first live show in three years earlier this summer, with an appearance set for this weekend (November 4-5) at ComplexCon in California.
Now, Williams and Zane Lowe have teased new music via Twitter. The Beats 1 DJ posted a pixelated photo with the musician tagged in it, captioning it: "Wednesday @Beats 1 9am LA 12pm NYC 4pm LDN". Williams also encouraged fans to tune in to the radio host's show at those times.
Adverts were posted around Tyler, The Creator's Flog Gnaw festival this weekend, which also hinted at the group's imminent return. The posters displayed the message "No_one Ever Really Dies" and the same artwork can be found across the band's website and social media pages.
Williams first confirmed N.E.R.D. were working on a new album back in 2015, before further confirming their new album plans after the live recording of his Beats 1 show OTHERtone at ComplexCon in Long Beach, California in November.
During an audience Q&A following the recording, Williams was asked again if there would be another N.E.R.D album. "The answer is yes," he replied, before, as Complex reports, "comparing the creative process around that upcoming project to making wine." He then added the album would arrive "when it's time."
In a BBC interview in February of this year, the star stated that the comeback is still underway, and "it's…
[ad_2]

Read-Full-Article