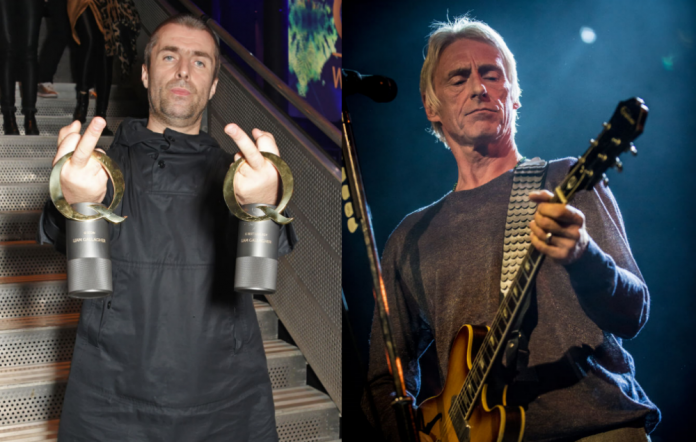 [ad_1]

Gallagher appeared to take exception to Weller's recent comments about his new solo album with a stinging Twitter outburst
Liam Gallagher has said "he doesn't give a fuck what Paul Weller thinks" after Weller compared songs from 'As You Were' to Gallagher's old band Beady Eye.
Gallagher released his debut solo album 'As You Were' earlier this month, with the record reaching number one in the album charts in its first week.
In a stinging attack on Twitter earlier today (October 26), Gallagher appeared to take exception to comments Weller made in a recent interview with Northern Transmissions' 'Records In My Life' series about his foray into solo music.
Speaking about which new albums he'd been enjoying recently, Weller remarked: "I was lucky enough to get a copy of Noel Gallagher's [album] and I've really loved that. It's a great record, I've been playing that loads."
The interviewer then asked Weller if he'd managed to hear 'As You Were', to which he replied: "I've heard a few songs, y'know. A couple of songs maybe."
Pressed on what he thought of those songs, Weller said: "I'm glad for [Liam], I'm glad he's got his own thing together and he's out there doing it. I'm really pleased on that level.
"Musically, it just sounds like Beady Eye – which isn't necessarily a bad thing, but it wasn't a massive surprise or anything. But I think I'm more pleased that he's out there doing that. The lyrics are pretty pony I thought, a little bit sub-standard."
Watch Weller's interview below, with the Liam comments starting at the 7:15 mark.
Gallagher responded to Weller's comments in a tweet that read: "I don't give a fuck what Paul weller thinks I've never been 1 of his little bitches and he fucking knows it".
[ad_2]

Read-Full-Article