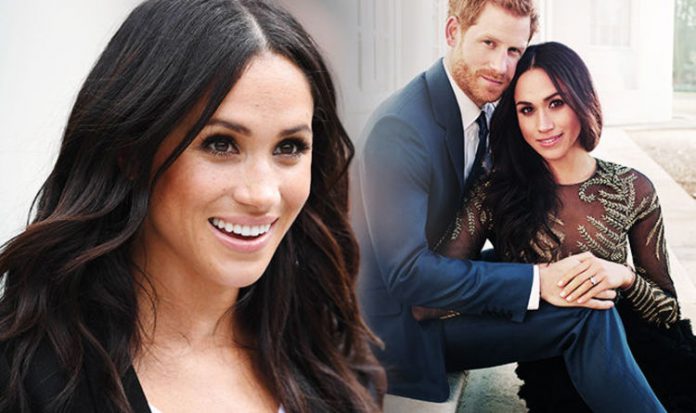 [ad_1]

Journalist Angela Levin has claimed the Duke and Duchess of Sussex' official Royal Wedding engagement photos, where Meghan Markle wore a sheer dress, would have been deemed as "not quite appropriate" by senior royals.
But Prince Charles will hold back from criticising Harry because he feels "guilty" about this relationship with the prince's mother, Princess Diana.
And Prince Philip, 97, has "stepped back" from laying down the law since his retirement.
Writing in 'Harry: Conversations with the prince', Ms Levin said: "It is unlikely that anyone whispered in Prince Harry's ear that such intimate, sexy photographs were perhaps not quite appropriate for a senior royal.
"The Duke of Edinburgh, who used to lay down the rules for his family, has stepped back since his retirement in August 2017 and aged ninety-six.
"Prince Charles was unlikely to say anything as he felt guilty about his relationship with the Princess of Wales. He was also thrilled that Harry, who had been miserable for years, seemed to have settled down.
"Prince William wouldn't either, because he too delights in is brother's obvious happiness."
Meghan Markle and Prince Harry's engagement photos tipped the royal family from its traditional perch with an intimate set of pictures and poses by the couple.
The engagement photos, which includes a black and white portrait of the couple embracing, was published in December last year alongside an endearing but more formal picture of the couple sat together holding hands.
The black and white image, taken in the grounds of Frogmore House, shows the prince and his fiancee smiling, and embracing as their heads touch.
Meghan holds the prince's face, with her engagement ring prominent, as he wraps his arms around her.
The other photograph shows the couple, dressed smartly, sat on the steps of the house with the US former actress just below her fiance.
Meghan places her left hand on Prince Harry's right hand, again showing her engagement ring, as they both look at the photographer.
A third photo was later released by the palace featuring a candid shot of the couple take on the day of the photoshoot.
And Meghan also raised eyebrows for her choice of dress – a £53,000 Ralph & Russo dress, which boasted a sheer top with gold embellishments. 
Ms Levin added: "Perhaps it doesn't matter. What is important is what Harry and Meghan would do as a team rather than what photographs they released."
[ad_2]