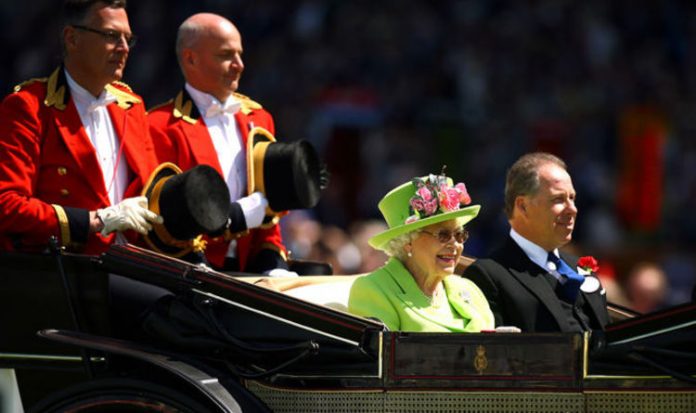 [ad_1]

In her usual fashion, the Queen arrived at the famous Berkshire racecourse in style, wearing an Angela Kelly-designed outfit and an ornate floral hat, paired with elegant white gloves and her signature brooch.
Green had been backed into the odds on favourite, at 1-2, the shortest price of the week.
Coral's Harry Aitkenhead said: "After successfully predicting three days in a row, punters went in bigger and better for today and green was the heavy favourite.
The Queen promptly obliged, leaving us looking a bit green ourselves and our customers up and down the country raising a toast to Her Majesty."
Day one saw the Queen looking radiant in sunshine yellow as she arrived accompanied by Prince Harry and Meghan Markle, and on Wednesday Her Majesty made her appearance in duck egg blue and matching hat, festooned with pink flowers that matched the geraniums in the Royal Enclosure.
The Queen's fashion choices have been bright and bold since she first ascended the royal throne.
The practical reason for this was revealed by Her Majesty's daughter-in-law Sophie, Countess of Wessex, who explained, in the documentary The Queen at 90, that the touching reason for such conspicuous ensembles is to give the crowds that gather at royal events a chance to see her in the midst of the masses of people.
Bookies have habitually run bets on the colour of the Queen's hat, expanding the potential of punters' winnings beyond the horses racing at Ascot.
Punters have been in high spirits while Rupert Adams, William Hill spokesman successfully predicted the bookmaker's despondency, commenting on Wednesday morning they had shortened the odds on blue from 7-2 to 2-1 favourite, adding: "We will be feeling blue if another hat horror occurs today."
The Queen didn't disappoint punters once again on Ladies Day, beaming as she arrived a hot pink hat by Rachel Trevor-Morgan, a matching Stewart Parvin pink A-line coat covering a silk dress in shades of lilac.
Today punters cheered for a fourth day, reveling in their winning streak.
Her Majesty was accompanied today by the Duchess of York, Sarah Ferguson, and her daughter Princess Beatrice.
The pair curtsied as the Queen arrived at the parade ring shortly after 2pm, while second daughter and bride-to-be, Princess Eugenie, was ostensibly missing from the family event.
Fergie the estranged wife of Prince Andrew, Duke of York, is often excluded from royal events since her divorce in 1996 but that didn't stop her mingling with the royal family, being spotted at Royal Ascot today with Beatrice and ex-husband Andrew.
Prince Andrew and his former partner have famously maintained an amiable relationship.
Adhering to the strict Royal Ascot dress code, Fergie donned a chic, albeit business-like, navy knee-length dress with tassled bell sleeves.
She continued the theme of classic with a twist by matching a snakeskin print burnt orange and navy clutch bag to her famous fiery locks.
Sarah is said to be very busy helping Eugenie plan her big day, this year's second royal wedding, set to take place in October.
[ad_2]