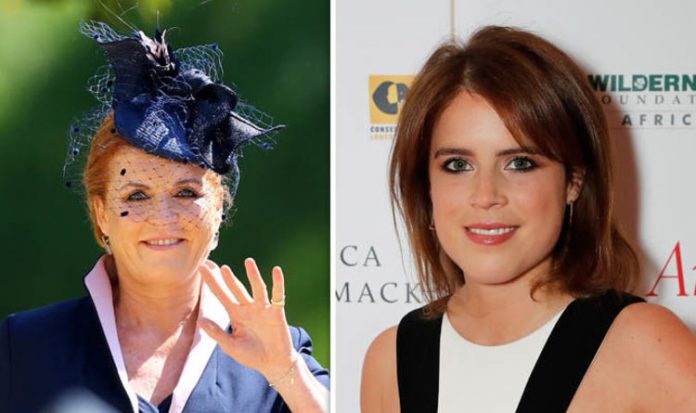 [ad_1]

The Duchess, who is regularly excluded from Royal events, posted a photo of her daughters riding in the Royal carriage procession at Royal Ascot.
She captioned the photo, writing: "So proud of my girls, Princess Beatrice and Princess Eugenie."
She also posted a photo of Princess Eugenie attending the Queen's Garden Party at Buckingham Palace, and captioned the photo: "So proud of my daughter Eugenie."
Both Princess Eugenie and Princess Beatrice attended Royal Ascot on day one and day three of the prestigious sporting event.
They rode in an Ascot Landau carriage alongside the Duke and Duchess of Cornwall on day one of the event, and with Princess Anne and Vice Admiral Sir Tim Laurence on day three.
Princess Eugenie, who is due to marry her fiancé Jack Brooksbank at St George's Chapel in October, stunned Royal spectators in a blue and yellow Erdem dress.
Her sister Princess Beatrice opted for a monochrome ensemble from Jonathan Simkhai.
Both sisters wore hats designed by Edinburgh-based milliner Sally Ann Provan on day three of the races.
The Duchess of York previously expressed her pride for the strength of her family bond, both with her daughters and with Princess Andrew, despite their divorce in 1996.
Speaking to Hello, she said: "A table can't stand on three legs, really, so you have the Duke and I, and the two girls.
"We're a family unit and we lead by example.
"We support each other emotionally and we support each other health wise.
"At least every two weeks we sit down and communicate, the four of us."
Commenting the joy of parenthood, she added: "I think the one thing I've done incredibly well – although I say it myself – is that I'm a really good mum. And I think my girls shows that."
The Duchess was last seen at Prince Harry and Meghan Markle's wedding at St George's Chapel in Windsor on May 19.
She sat in the Quire of the chapel, but was notably positioned on the opposite side to the Royal Family.
[ad_2]