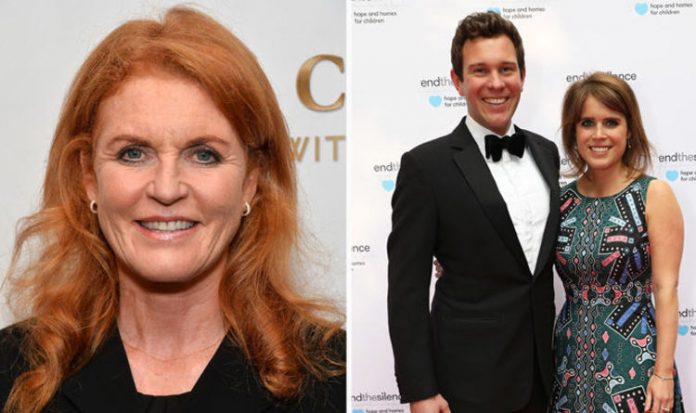 [ad_1]

Fergie wrote the tribute as well as saying she is "excited and thrilled to welcome Jack into our family" in a thank you card to a wellwisher.
The message on the card from the mother-of-two said: "As you may well guess we are all very excited and thrilled to welcome Jack into our family.
"Eugenie and Jack make a beautiful couple: full of love, kindness and fun.
"They light up the room when they enter. We are so lucky that they found one another.
"Thank you for your kindness and loyalty over the years. Bestest wishes, Sarah."
The card, which featured a photo of the couple on the front from their engagement announcement, was shared by Instagram account 'royalseuropaletters'.
It appears that Fergie's card was sent in response to a congratulations card from a royal fan on the engagement announcement.
This Instagram page began after the birth of Prince Louis in April and shows cards sent to well-wishers from the royal family.
Speaking on The One Show last month, Fergie also spoke highly of Jack saying: "Jack is a really sort of amazing bringer of light and he brings joy. I say to Jack always just stay yourself and I'd say that to anybody what else can you do in life."
She also said on the show that she understands "why mothers cry at weddings now" hinting that she is gearing up for an emotional wedding day for Princess Eugenie.
The 58-year-old has shared a series of gushing posts on Instagram and Twitter following the engagement announcement, one was a photo of the couple with the words "They make laughter and we feel the joy. Thank you for the magic. Jack and Eugie so proud of you."
She also wrote an open letter to her daughter and Jack in Hello! magazine where she congratulated the couple on their engagement.
The couple will marry at St George's Chapel in Windsor on October 12 and they have invited 1,200 members of the public to the lavish event.
The engaged couple have been spotted visiting a tailor in Savile Row in the run-up to the wedding.
[ad_2]