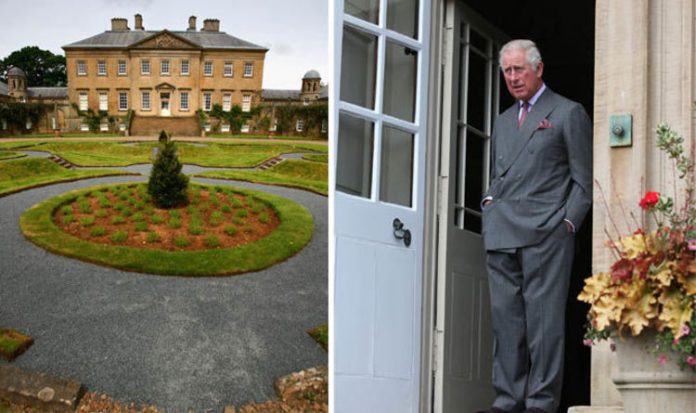 [ad_1]

The Prince's Foundation – which runs the stately home which Charles saved for the nation – says "knowledge and experience in organic techniques and procedures," would be desirable.
The job advert says the successful applicant will "under the direction and supervision of the Head of Gardens carry out essential garden and estate development/maintenance duties for the enhancement of the estate and its policies.
"Participate in the continual development and maintenance operations of the gardens and wider estate including, border care and presentation, digging/forking, fertiliser/ application, planting, pruning, soil preparation, tree/hedge work, leaf/debris collection, division of herbaceous plants, watering/upkeep of pots and containers, strimming, grass cutting and any other general horticultural operations." 
The gardener will also have to help maintain formal and informal ponds and assist at events held within the gardens or grounds.
Broad practical horticultural experience gained through working within the horticultural industry "in a historical heritage/botanical garden or similar open to the public" would help.
No salary or closing date for applications is mentioned.
Last year, Charles wrote that he could "never have foreseen that this same optimism and enthusiasm" over Dumfries House "would still be at the same high level ten years on." 
The property, previously owned by the Marquess of Bute, former racing driver Johnny Dumfries, was saved by Charles a year before the banking crash.
The Prince, who is Great Grand Steward of Dumfries House, covered £20million of the £45million cost of buying the property by borrowing from the banks via his charitable foundation.
He has since paid off the huge loan.
His former valet Michael Fawcett has been given a key role in overseeing the restoration and renovation of the Palladian property and its 2,000-acre grounds, also promoting it as a wedding and conference venue.
Dumfries House was designed by the Adams Brothers in the 1750s. 
The mansion contains a collection of 18th Century furniture, including specially commissioned works by Thomas Chippendale.
Inspired by memories of his childhood, Charles was behind the first Royal maze in 300 years, which he unveiled two years ago at Dumfries House.
Charles, known as the Duke of Rothesay in Scotland, instructed gardeners to construct the 6ft high maze and personally oversaw the project.
The hedge puzzle even has a Japanese-style pagoda for reflection at its centre as well as obelisks and statues.
Charles was inspired by his times as a child in a maze at Sandringham, which was removed many decades ago.
Charles identified a perfect site, 500 yards from the main house. 
The prince then asked Fife-based garden designer Michael Innes to develop a plan.
The design involves a 164 feet diameter yew maze, with the plants over 6 feet high to create immediate impact. 
There is over one 1093 yards of hedging in total.
[ad_2]