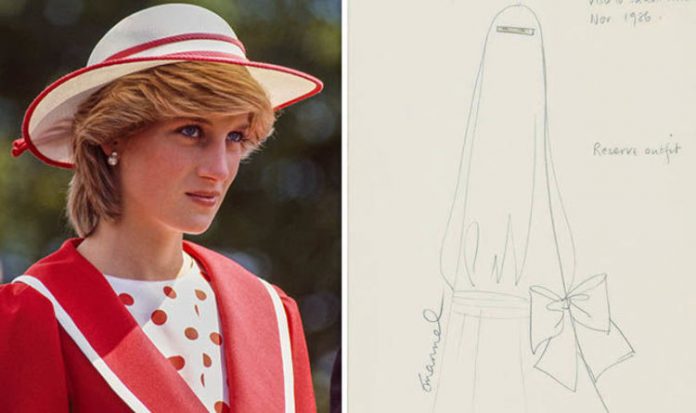 [ad_1]

Princess Diana was one of the most beloved members of the Royal Family, known for changing attitudes towards AIDS and her heartwarming moments with members of the public, particularly with children.
And now fashion sketches designed for the late Princess are set to fetch a hefty auction price, with some surprising additions.
Among among them is 'burka with a bow' which was specifically designed for one of the Princess' tours with Prince Charles.
The designs are directly linked to one of Diana's many official trips to foreign countries.
What is the burka with a bow?
The burka with a bow is one among a number of Diana's designs now up for auction.
Designed for the Princess by David and Elizabeth Emmanuel, the burka was meant for her 1986 tour around the Arab Gulf.
Princess Diana apparently ordered the dress stating "In all cases modesty is the order of the day."
The auction piece includes a folder which is designated "The Gulf Tour 1986 Day & Evening Wear Designs".
Among the designs, the burka with a bow was labelled: "HRH. The Princess of Wales, Visit to Saudi Arabia, Nov. 1986, Reserve Outfit."
Talking to PEOPLE, Elizabeth Emmanuel said that the dress was never shown to the Princess or made.
She said: "It was not included in the final bundle we presented to her, as by then we had a better idea of what was needed."
Sold by a private collector, the designs come with a guided price of $30,000 (£23,000).
Why would Diana need to wear a Burka?
Diana ventured into the Gulf states with husband Prince Charles in a 1986 tour, which saw a new collection of outfits ordered especially for the occasion.
The Gulf coast in the Middle East refers to the states of the Persian Gulf.
These states include Bahrain, Iraq, Kuwait, Oman, Qatar, Saudi Arabia and the United Arab Emirates (UAE).
Modest dress is epected in these states, especially Saudi Arabia, and the use of an abaya (a long black cloak worn over normal clothes to conceal body shape) is generally required at the least.
In places like Riyadh, wearing a headscarf is also advised for women.
Diana's burka would have been an attempt to fit in with the traditional dress code of the countries she was visiting, but in the end it was not necessary.
A description from the RR Auctions said Princess Diana "tried to conform to local customs by wearing concealing clothes but still exposed her neck and left her head uncovered".
It added: "Notably, she did not have to wear the 'reserve outfit' burka depicted in this archive."
Instead, Diana attended the evening banquets in modest, long-sleeved dresses which had been made specifically for her tour.
[ad_2]