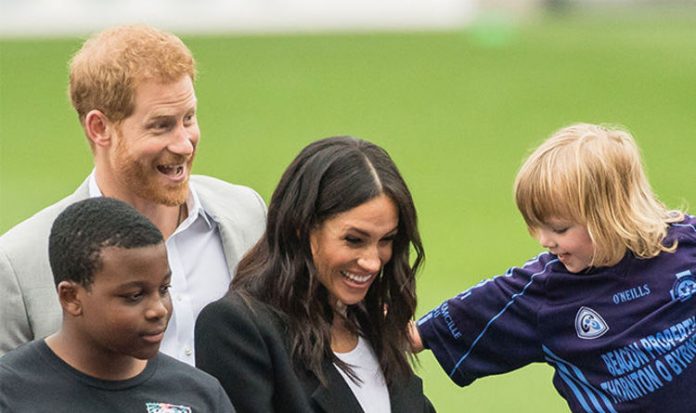 [ad_1]

The 33-year-old prince laughed as Elaine Adam-Stewart, 43, suggested he follow in her footsteps and have FIVE royal babies.
During a royal walkabout outside the EPIC museum of Irish Emigration, Mrs Adam-Stewart asked Prince Harry: "My husband also has red hair and he gave me five children – when are you and Meghan going to get going?"
The prince cheekily responded: "Five children? Too many".
The Duke and Duchess of Sussex have only been married for just over two months and royal fans are already eager to welcome a new member into the Royal Family.
They have previously revealed they have plans for a royal baby "in the near future".
Asked about their plans for future children during their engagement interview back in November 2017, Prince Harry said: "One step at a time, and hopefully we'll start a family in the near future".
In a recent interview Meghan Markle's father Thomas Markle said he believed his daughter would be trying for a baby.
Since the couple tied the knot in May they have had a busy few months carrying out engagements in London and their first official royal trip as a married couple to Ireland.
And it was on their visit to Ireland that the pair proved they will make "natural" parents when they were captured in heartwarming scenes with their younger fans. 
Harry is currently on a two-day visit to the Netherlands where he is following in the footsteps of his late mother, Princess Diana, to raise awareness of the fight against AIDs.
The prince and his 36-year-old wife Meghan will set out on their first overseas tour as husband and wife in October, visiting Australia, where they will launch the Invictus Games in Sydney.
They will then travel to New Zealand, Fiji and Tonga.
[ad_2]